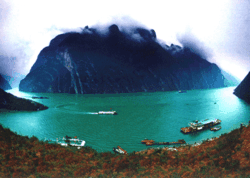 Without a doubt, a Yangtze Cruise is one of the best ways to see China. Placed at the right point of any overland tour it breaks up hotel stays with an exciting natural wonders and cultural event fused together. -- Helen Wang
(PRWEB) March 19, 2013
WindhorseTour, a top China travel agency which specializes in providing tours throughout China that include Yangtze River Cruise recently published their 2013 sailing calendar. The new calendar highlights the eleven (11) new cruise ships that were put to sail this season along China's longest river.
Renowned as an important lifeline of China's ancient and modern civilizations the Yangtze is more than just a river. Helen Wang the Sales Manager at WindhorseTour said, "Without a doubt, a Yangtze Cruise is one of the best ways to see China. Placed at the right point of any overland tour it breaks up hotel stays with an exciting natural wonders and cultural event fused together." Almost all Yangtze Cruises last 3 days 2 nights via the downstream voyage between Chongqing and Yichang. The upstream trip adds an extra day.
Whether you choose the more popular downstream or the slower upstream, every sail is filled with a range of activities and scenery. Each ship passes through three (3) distinct gorges, the first being Qutang Gorge, followed by Wu Gorge and lastly Xining Gorge. Each offering their own unique character and glimpse of the wide ranging geology that shapes this 6,300 km. (3,9145 mi.) river.
While clients are cruising between any 1 of the over 10 highlights there are continuous on board activities to keep everyone entertained. For kids of all ages there is Chinese Calligraphy classes and cooking classes, along with history, tai chi and many other choices to choose from. Each day the ship will stop at a featured attraction such as Fengdu Ghost City and gigantic Three Gorges Dam.
Catering to clients of both different budgets and travel style there is a ship built for everyone. WindhorseTour with their years of experience can advise clients on which ship's style best matches their needs. From the top of the line Victoria Cruises to the value packed 5 star President series, or a 4 star budget cruises. No matter the ship all are focused on providing exceptional service to international clientele.
Helen Wang expressed that with the 2013 Yangtze Cruise Calendar, "WindhorseTour has also released several new tour itineraries that draw on our years of experience to properly combine a Yangtze Cruise with a China highlight tour, that includes Chengdu, Beijing, Shanghai, Xi'an, Lhasa and others."
WindhorseTour specializes in creating tailor made experiences based on every client's unique needs and operating groups to all provinces in China. Please visit WindhorseTour.com for more information or contact them.
Email address: news(at)windhorsetour(dot)com
TEL: (+86)-28-85593923, (+86)-28-86254701
Fax: (+86)-28-86254710