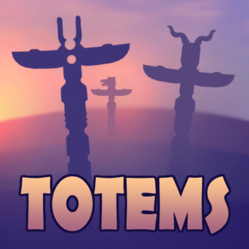 Totems brings together all the fun of strategy board games, puzzle-matching games, and simple card games into one.
KIEV, Ukraine (PRWEB) March 15, 2013
Timecode, developer of mobile and server applications, today released their newest game for iPhone, iPad or iPod Touch devices, called Totems. Featuring interactive HD graphics and sound, Totems brings together all the fun of strategy board games, puzzle-matching games, and simple card games into one. Easy-to-learn, yet difficult-to-master, Totems is a fun and engaging game to players of all skills levels and ages. Starting today for a limited time, the full version of Totems is available for $0.99 before returning to the full price of $1.99 on the iTunes App Store: https://itunes.apple.com/us/app/totems/id499852645?mt=8
In Totems, players place carved animal pieces (totems) on the map in order to claim territories. With each turn, players place matching totems on adjacent territories to expand occupancy and control of the map. The player who conquers the most territories when the map is full, wins! The character totems, the changing colors of the territories, the variety of the maps, and the cleverness of opponents all conspire to make each turn a fun and interesting challenge.
Totems features:

Unique game design derived from the world-famous "4-Color Map Theorem," the first major theorem to be proved by the use of a computer.
Multiple playing modes – Can you beat the AI? Take on friends and compete with random opponents in live multi-player mode.
Explore 5 beautiful maps featuring varying numbers of territories and difficulty level, including Hammerhead Atoll, Volcano Island, Northern Lake, and America.
Compete against 5 generals – Scout, Warrior, Shaman, War Chief, and Supreme Chief – each with different personalities and skills ranging from easy to hard.
Unlock artful carved totems to place on each map to claim territories, such as Lions, Monkeys, Eagles, Deer and more!
Every player is given an ELO rating that tells opponents your relative level of skill and experience – challenge players that rank within your level.
HD graphics and sound showcase the whistling of the wind, the clouds gliding across the map, and the "Spaghetti Western" musical track, which completes the interactive experience.
Today's launch of Totems expands Timecode's portfolio of high quality applications, including the recently launched Snow Queen, an enchanting interactive children's book based on the award-winning Hans Christian Andersen tale.
Download the press kit: https://www.dropbox.com/sh/x1notk5ixx99efo/AprPqneYOr
To learn more about Totems, visit the official website: http://timecode.com/totems.html
About Timecode
Established in 2010, Timecode is a Kiev-based developer of mobile and server-side apps and software. The core Timecode team has been together since 2005, with a strong focus in games and a dedication to art and a unique approach to design. Timecode has several mobile projects under development, including two new games coming early 2013. For more information, visit http://www.timecode.com