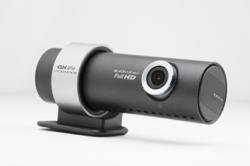 BlackVue Wi-Fi DR500GW-HD
(PRWEB) March 16, 2013
Pittasoft, dashboard camera company in Korea, has recently launched a brand-new product 'BlackVue Wi-Fi DR500GW-HD' dash cam. International sales started in January, 2013.
BlackVue Wi-Fi DR500GW-HD records smooth Full HD (1920x1080p) video at 30fps. Full HD resolution is necessary to clearly capture license plates of accident participants. Megapixel lens and 2MP CMOS sensor ensure crisp video quality both daytime and night time. High compression technology allows recording more footage on same capacity SD card.
One more feature of BlackVue Wi-Fi DR500GW-HD is wireless smartphone connectivity. Now to watch live or recorded video you don't need to have a built-in screen or to take out the SD card. You may use your Android smartphone/tablet, iPhone or iPad instead. Live View teamed with 360° rotation is also useful for precise shooting angle adjustment. All these features are supported by companion BlackVue app.
In addition, BlackVue Wi-Fi DR500GW-HD car dashboard camera has more advantages. 156° viewing angle gives wide perspective of what occurs on the road. Installed in the front, only wide-angle camera can capture what happens on the sides. 3 recording options (Normal, Event, and Parking mode) are there to get optimal footage in any situation. To make BlackVue work effortless switching to/from parking mode is completely automatic.
A built-in G-sensor and GPS record speed, location, and measure impact. Then BlackVue Viewer or BlackVue app displays all recorded data on PC, Mac, or a smartphone. BlackVue Viewer for Windows PC and Mac gives access to powerful video search, setup preferences for Voice Guide, Parking mode, and more. BlackVue apps allow fine-tuning of BlackVue using Android smartphone/tablet, iPhone or iPad.
Pittasoft Co., Ltd. is a dashboard camera company since July 2007. It has been investing heavily in product development and eventually took a firm position in global Full HD dashboard cameras market.