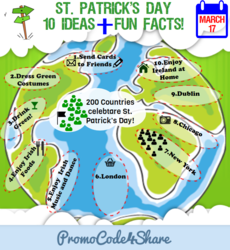 PromoCode4Share.com is offering some great ideas and deals to make it the best St. Patrick's Day ever
LOS ANGELES, Calif. (PRWEB) March 16, 2013
St. Patrick's Day is around the corner and PromoCode4Share.com is offering some great ideas and deals to make it the best St. Patrick's Day ever. Whether it's drinking green beer or wearing a green t-shirt, millions of people every year celebrate St. Patrick's Day. To help get the party started, PromoCode4Share.com has released a zany infographic highlighting 5 things to do, 5 places to go and some surprising facts about the widely celebrated holiday.
The infographic answers questions about the mysterious origins of the holiday, and separates myths from the truth. The holiday started out as a religious day commemorating the Saint Patrick. There were no wild parties, lucky shamrocks or rowdy pubs. In fact, all of the pubs were closed. It wasn't until Irish Americans got into the act, and made the holiday the raucous celebration it is today.
The St. Patrick's Day infographic reveals the best places to visit for St. Patrick's Day along with other information including recipes for St. Patrick's dishes, green whisky cocktails, and more. It even answers the question of just how rare those four-leaf clovers really are.
PromoCode4Share.com spokesman, Phuong Tran, stated, "The only thing we love more than offering people great deals online is bringing them joy and laughter. Interesting infographics are a great way to share information and entertainment quickly and easily online. And what better way to make people laugh and have fun than by talking about the most fun holiday in the world – St. Patrick's Day."
Phuong Tran went on to say, "Among the interesting things you'll find out is that over 94 million people wear green on St. Patrick's Day, and people really love to wear unique St. Patrick's Day party clothing".
About PromoCode4Share.com
Promocode4share provides up-to-date coupons for prestigious retailers that save people money. The codes work, and they are real. In addition to the money saving promo codes, the site recommends deals and products and useful shopping tips, everyday living tips, and fun facts. Check them out at promocode4share Facebook and promocode4share Twitter .