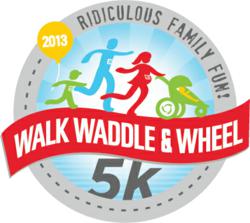 With over 9 million American obese children, we have the opportunity to make a difference.
Tampa Bay, Florida (PRWEB) March 15, 2013
EverydayFamily.com, the fastest growing destination for young and expecting families on the web, has launched WALK WADDLE & WHEEL™, a series of events designed to help promote health & wellness, by getting the entire family moving.
According to the Centers for Disease Control, obesity is the #2 cause of preventable death in America and, "The percentage of children aged 6–11 years in the US who are obese has increased from 7% in 1980 to nearly 20% in 2008." To help combat this rise in obesity the President has launched the "Let's Move" initiative; a national movement focused on raising a healthier generation of kids and families. EverydayFamily's contribution to this growing movement is the launch of WALK WADDLE & WHEEL™, a family friendly 5k race/walk and health & wellness festival.
"With over 9 million American obese children, we have the opportunity to make a difference." said Tony Golden, father of two and the Chief Business Development Officer for EverydayFamily.com. "Obesity truly is an epidemic at this stage, but the problem is preventable. WALK WADDLE & WHEEL™ is an event for families and whole communities to experience the value of exercise and getting active at an early age while having the most possible fun."
With an "Everyone is a winner" attitude, Walk, Waddle & Wheel celebrates health, happiness, family and wellness, bringing the community together to create a five-kilometer ridiculous family fun event, in which thousands of participants enjoy a family friendly 5k, followed by a festival style party that includes live music, kids zone, adult obstacle course, Quad Bungee Jumper, food and much, much more.
About WALK WADDLE & WHEEL™
WALK WADDLE & WHEEL™ stands for "Ridiculous Family Fun!" Imagine a creative collision between a wild and crazy festival-inspired event, and a family friendly 5K race and interactive health and wellness event. WALK WADDLE & WHEEL™ encourages awareness on a variety of health topics, offers resources on health promotion and disease prevention, builds community camaraderie and most importantly, sends an important message to members: EverydayFamily.com and its sponsors value their families' health and want to give back to the communities where they live, work and play.
About EverydayFamily.com:
EverydayFamily.com (EF) is the leading online resource to a growing community of moms who share their everyday parenting experiences with those seeking guidance and support as they move through their family's journeys, from preconception, to preschool and beyond. As the fastest growing destination for new and expecting moms on the web, EF attracts over 1.3 million unique visitors monthly. Delivering results for a majority of iconic brands in the new parent vertical, EF provides opportunities for sponsorship and creative integration that weaves relevant marketing messages as an uninterrupted part of the user experience.