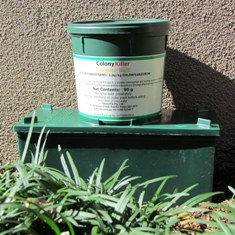 It's about a 10 minute job to set up a ring of TermiBrick TermiteTraps around your buildings. It is the start of a professional extermination job at an affordable cost.
Brisbane, Australia (PRWEB) March 22, 2013
According to a CSIRO survey conducted a few years ago, 32% of homes had a termite presence. In a separate survey, the Institute of Australian Architects reported that of all homes inspected for sale, one-third had termite damage. This high incidence of termite attack means homeowners need to be vigilant in protecting their greatest asset against termites.
Until recently, this was the realm of professional pest controllers, but the new Termi-Brick Termite Trap enables homeowners to do a job as well, or even better than many professionals, at a fraction of the cost.
Created by an entomologist with 40 years of experience in the pest control industry, the new system intercepts foraging termite colonies using traps which sit on top of the ground. A monthly glance in passing will reveal if the Trap is under attack, and if it is, a safe-to-use bait is added so that the termites will take it back to kill the nest.
"Termites, also known as white ants, come out of the soil to find wood, including in houses, so I designed this new trap to sit above soil level. A side benefit is that installation is just a matter of putting them down; there is no digging." related Ion Staunton, a former pest technician who developed the TermiBrick TermiteTrap. "These traps, when placed around the house, are easy for termites to find. Thousands can aggregate inside a trap and it is far easier and less stressful to feed them outside in a Trap than if they are inside your home. Either way, the bait is taken back to their colony and the life cycle is totally destroyed."
A scientific paper cited a trial using 60 monitors, with 30 placed in the ground and 30 on top of the ground. All of those located on-ground were attacked by termites before any of those placed underground. Tests with the TermiBrick's prototype revealed similar results. After nine weeks, all on-ground traps were infested while the standard professional in-ground monitors remained uninhabited during that time.
Like most good ideas, the TermiBrick is based on a very simple concept which takes advantage of termite instincts. It is a UV protected plastic box, open at the bottom so termites can easily get inside to begin eating the Tasmanian Oak timber - known to be a favorite food source. Their basic need to control their climate is made easy for them; there is a small hole at the top and all they need to do is close it with some of their mud mixture to seal in the humidity. This mud, now blocking the hole, is easily noticed by the owner when walking past. A tub of bait is added to the top of the TermiBrick after pushing in the mud with a finger. The workers then take this bait back to the nest.
Containing an insect growth inhibitor, the bait is deadly to the life cycle of termites and kills the entire colony, but safe to animals and humans. The Australian Pesticides and Veterinary Medicines Authority in Canberra has approved the Colony Killer Termite Bait for use by homeowners. It is the same active ingredient as used by professionals.
"I find I keep using the word 'easy' because it is not complicated" says Ion Staunton." I've taught the TAFE course, wrote the text books used in the training of professionals and now with the simple concept of the Brick-shaped trap and the non-toxic termite bait it's about a 10 minute job to set up a ring of TermiBrick TermiteTraps around your buildings. It is the start of a professional extermination job at an affordable cost."