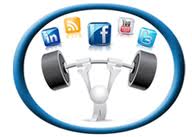 The song list is a great resource for gym owners who want to spice up their own gym tracks. Playing popular workout tracks is a good way to get members more energized during the workout, and raises the energy level of the gym
Melbourne, Australia (PRWEB UK) 17 March 2013
According to a recent news article on news.com.au titled Australia's favourite gym songs revealed, Spotify has announced Australia's most popular workout songs. The news prompts a response from Sean Bridger, Co-Founder of Marketing for Gyms.
"The song list is a great resource for gym owners who want to spice up their own gym tracks. Playing popular workout tracks is a good way to get members more energized during the workout, and raises the energy level of the gym," said Bridger.
"You know that feeling? When you walk into a gym, and the energy level of the place is all amped up…that excites people to work out. It's a good example of creating an atmosphere that invites action and achievement. You want to be known as that high energy gym—it's a great way to build your brand," he continued.
When asked to explain how music can further be used to help gym owners market their gyms, Bridger revealed some more tips.
"You can take it a step further, and engage your online community by posting YouTube videos of the songs on your facebook and twitter feeds. Like a 'workout song of the day' kind of video…to get your members in the mood for a workout," said Bridger.
"This brings that atmosphere to them outside of the gym and creates an association between your gym brand and the level of energy and excitement they feel when they listen to some great beats. Sometimes, they may not be able to make it to the gym that very day, but having the music show up in their feed can help them tie your brand with the feeling of high energy. It's a great way to market by association," he continued.
Gym owners and personal trainers looking for more tips and tricks on marketing their fitness business can contact the gym marketing experts at Marketing for Gyms.