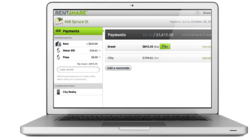 When building the landlord side of our product, our first goal was to make something with zero onboarding friction.
New York City, NY (PRWEB) March 15, 2013
RentShare.com, a leading rent payment company that makes it easy for tenants and roommates to pay rent online to any landlord, released the first of several new features to its landlord platform. Landlords and operators of all sizes can now accept debit cards, credit cards and e-check payments from tenants without enduring any of the hassles or risks typically associated with integrating new rent collection systems.
There are no set-up fees, contracts or transaction fees for landlords using RentShare's system. Additionally, RentShare's customer support team handles onboarding tenants for the landlord, including promoting the service and educating tenants on how to use the website.
A unique aspect of this new service is the ability for landlords to continue to receive disbursements via paper checks, all of which are printed and mailed individually by RentShare. This release allows landlords that are happy with their existing rent collection systems to give their tenants multiple online payment options without having to change anything about how they collect payments. Between the lack of fees charged to the property manager, and the preservation of the current system, building operators can now promote online payments to their tenants without needing to convince their superiors to make expensive decisions.
"When building the landlord side of our product, our first goal was to make something with zero onboarding friction," said Ian Halpern, Co-Founder and CEO of RentShare. "Landlords and operators I've talked to get asked by their tenants all the time to pay rent online, but it really doesn't make sense for a lot of these landlords. Most have a paper check system that does the job, and they are understandably hesitant to spend time learning and paying for a new collection system. With RentShare, accepting online payments is a no-brainer for everyone. Giving renters the ability to pay rent online means fewer late payments, happier tenants and no more bounced checks."
RentShare has plans to roll out a full suite of landlord features in 2013, including the ability for landlords to receive disbursements directly into multiple bank accounts, store payment histories and integrate with third party accounting softwares. Landlords and property managers who wish to receive early access to these features are encouraged to apply to be a development partner on RentShare's website.
About RentShare:
RentShare.com is the easiest way for tenants to pay rent online with a bank account, debit or credit card. Roommates have the flexibility to share rent and other household expenses. Additionally, landlords have a hassle free way to collect rent online at no cost to them.