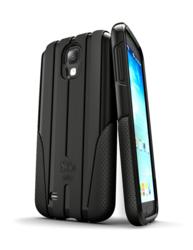 The newly designed iSkin exo redefines the company's commitment to great looking protection
Toronto, Ontario (PRWEB) March 15, 2013
iSkin, a premium brand of fashion and technology lifestyle accessories, today announced two new and innovative protective cases for the new Samsung Galaxy S4. The newly designed iSkin exo redefines the company's commitment to great looking protection. Achieving distinction through design, the iSkin exo for the Galaxy S4 is the first of several protective covers from iSkin to feature a new bold, brawny, yet sophisticated, appearance. The exo brings effective protection to the delicate design of the Samsung Galaxy S4. Its shock-absorbing rib structure protects vital areas of the new device, including the edges, and is designed to disperse impact energy. The exo is beautifully finished with a mix of brushed metal and perforated surface textures along with high-gloss accents throughout. Camera and speaker areas remain unobstructed while volume and power buttons are safely covered but remaining fully functional.
On the front side, the iSkin exo carefully wraps the surrounding screen area and protects the device's screen when placed face down on surfaces. The exo's combination of modern, brawny design and functional protection makes it a must-have companion for those looking to fortify their Galaxy S4 from the hazards of everyday use. The iSkin exo is expected to retail for $29.99 USD and will begin shipping in late April.
Also announced today is the iSkin claro for Samsung Galaxy S4. Taking clear protection to the next level, iSkin has engineered a unique dual-layer protective cover that combines the clarity of a hard case with the shock-absorbing benefits of a soft case. This fusion makes the claro the first case for the Galaxy S4 to bring this level of protection in an ultra-clear, scratch resistant package. The claro's unique soft outer surface provides owners with a secure grip on the device while the durable interior provides impact protection. Fortifying side and screen edge bumpers provide enhanced protection, while volume and power buttons are securely covered but remain fully functional. The claro is expected to retail for $29.99 USD and will also begin shipping in late April.
iSkin has set up a product notification page for customers to be notified of its new products availability: http://www.iSkin.com/samsung
About iSkin Inc.
iSkin Inc. is one of the world's most trusted mobile accessory brands since its first advanced protective solution for the iPod® in 2002. Known for its cool, innovative designs and fashion-forward style, iSkin continues to be the leading mobile accessory brand. iSkin continues to focus on delivering the highest quality, innovative design and fashion-forward style in accessories for Apple®, BlackBerry® and Samsung®.
The iSkin word mark and logo are registered trademarks of iSkin Inc., registered in Canada, the United States and other countries. All Rights Reserved 2006-2013. Apple®, iPad® and iPad® mini are trademarks of Apple Inc., registered in the U.S. and other countries. Other company and product names mentioned herein are registered trademarks of their respective companies.
For further information contact:
Press(at)iSkin(dot)com
http://www.twitter.com/iSkin
http://www.facebook.com/myiSkin