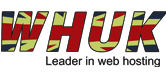 The Channel Partner Program not only gives our partners a reliable hosting environment, but also provides seamless support on our product range, to our partners and their clients.
- Ross Taylor, WHUKs Channel Partner Manager
Leeds,UK (PRWEB UK) 18 March 2013
Webhosting UK Com Ltd. (http://www.webhosting.uk.com), a leading web hosting services provider in UK since 2001, announced the launch of their new initiative, the Channel Partner Program, to help different business verticals develop new product and revenue streams to strengthen their positions in this increasingly competitive industry.
WHUK's global channel partner program is tailored towards various market vertical partners including IT Value Added Resellers, technology service providers, web designers, web developers and other IT professionals.The company offers many options, including on-demand provisioning, sales/technical support, and discounts for partners, all this without any monthly revenues commitment from the partners. The program is designed to help WHUK's current and future partners enhance their businesses with the industry's most advanced and comprehensive suite of web hosting services.
"WHUK has always been offering highly professional and reliable web hosting services at very affordable prices," said Ross Taylor, WHUKs Channel Partner Manager. "We have been and will always be striving to offer the best-in-class customer service combined with speed across our service offerings, from instant setup, fast connections and website loads, to prompt customer support. The Channel Partner Program not only gives our partners a reliable hosting environment, but also provides seamless support on our product range, to our partners and their clients."
"We continue to develop these programs to maximize the benefits to our partners," she further added.
Since its establishment in 2001, WHUK has won various awards for a number of product offerings. With a client base of more than 25,000 customers and affiliates total nearing 7,000, the company is one of the reputed web hosting providers in the UK. Its service portfolio includes Domain registration, Shared hosting, Reseller, VPS, Cloud, Dedicated and other add-on services based on Linux and Windows platforms. With servers housed in their Tier IV data center facility, the company offers an uptime guarantee of 99.95%. The use of Dell branded hardware infrastructure further offers high reliability and security, backed by 24/7/365 free support.
The registration for partner program is Free. To register for WHUKs Channel Partner Program, please contact: partners@webhosting.uk.com.
Or visit their webpage: WHUKs Channel Partner Program
About WHUK
Established in the year 2001, Webhosting.UK.Com (WHUK) Limited offers a wide array of value for money web hosting services including Linux/Windows Shared Hosting, Reseller Hosting, Cloud Hosting, Virtual Private Servers (VPS), Semi-Dedicated Servers, Dedicated Servers, SSL and Offsite Backup Solutions. 24x7x365 free technical support is available and 99.95% uptime guarantee is offered as standard with their UK-based servers housed at Tier IV datacenter facility.
WHUK Contacts:
Address:
WebHosting UK Com Limited
Suite 1,
7 Commercial Street,
Morley, Leeds,
West Yorkshire,
LS27 8HX
Phone: +44-191-303-8069
Fax: +44-207-692-7267
E-mail: sales(at)webhosting(dot)uk(dot)com
Web: http://www.webhosting.uk.com
FB - facebook.com/webhostingukcom
Twitter - twitter.com/WebhostingUKcom
Linkedin - linkedin.com/groups/Webhostingukcom-4216172
Google Plus - plus.google.com/115237732625637217717/