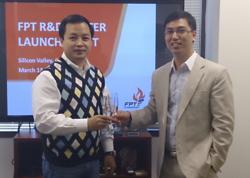 With the new R&D Center focusing mostly on Mobility, we believe that FPT will have more up-to-date technology capabilities, advanced solutions, and our projects with FPT will have greater success
(PRWEB) March 16, 2013
FPT Corporation (VNINDEX: FPT) today announced the opening of its first R&D Center on March 13, 2013 in Silicon Valley, San Mateo, California, which is designed to focus on developments and innovations in various fields with the main focus on Mobility, Cloud and Big Data.
The inauguration of the center is in accordance with the increasing demand of high technology services in the world, particularly in the US. The R&D facility will be in charge of the technological aspects of the services and collaborate closely with the company's regional offices to support North American clients. FPT has been delivering new and innovative services and is now extending access to its growing number of technology experts and leaders. Through numerous successful projects with clients, FPT Corporation has proven its capacity and ability to bring innovative thinking to the table and keep up with technology waves. "FPT's team is very quick to understand, come up with and implement solutions" – said a representative of a Fortune 50 aviation company - "They even recommend more dynamic pieces to add to the proposed solution. They give close estimates for the tasks and are able to give detailed explanations about the project. They are very innovative and able to understand the "big picture". With the new R&D Center focusing mostly on Mobility, we believe that FPT will have more up-to-date technology capabilities, advanced solutions, and our projects with FPT will have greater success….FPT's true Agile methodology allows us to be flexible in our working model. Some other suppliers send a project team with one lead and inexperienced members. This puts us in a position where we don't have a choice but to let them work in one team. With FPT, all of the team members are experienced, flexible and able to work on their own and with our other members."
With the target of delivering innovations and exploring uncharted fields, the facility acts as the company's overseas R&D center, which holds various research projects on new products and solutions and connects with R&D teams of other leading IT companies to keep up to date with technology trends and improve products' quality standards. Led by Mr. Nguyen Tat Dac – FPT Software's Mobility Center Director, the center is expected to set up a built-in technology laboratory, which offers on-site testing, evaluation and consultancy on products and technologies as per clients' requests in the near future.
"With the introduction of this R&D development center, FPT acknowledges the growing opportunity for growth in the mobility industry and affirms its commitment to the US market and its global clients" – said Mr. Bui Hoang Tung , FPT USA's Managing Director.
About FPT Corporation (VNINDEX: FPT) is the largest IT Company in Vietnam with over US$1.2 billion revenue and 15,000 employees. FPT is qualified with CMMI 5 compliances, ISO 27001:2005. FPT diversified global technology company that delivers IT-enabled business solutions to help more than 100 global companies and 27 clients are in the Fortune Global 500 list. FPT extended its operations globally in United States (California, New York, Texas and Washington), Japan, Europe, Asia Pacific (Singapore, Malaysia, Philippines, and Thailand) and Australia. FPT's domain expertise include Automotive, Healthcare, Distribution and Supply Chain, Mobile, ISV, ERP, BPO, Banking and finance, Manufacturing, Telecommunication, Education and IT Services.