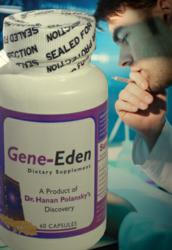 The scientific data with regard to the immune enhancing and antiviral properties published in reputable sources on each individual compound in the Gene-Eden formula is impressive.
Rochester, NY (PRWEB) March 18, 2013
According to Mike Davis of polyDNA, "A growing number of customers say that their doctor recommended Gene-Eden to them." polyDNA turned to these doctors and asked them to provide us with a review of the product. One of the first doctors to recommend Gene-Eden-Vir, and who has been recommending it for over two years now, posted a review of Gene-Eden-VIR on the Amazon website.
Gene-Eden-VIR Review: "I am Dr. Norman Cohen, a medical doctor with over 30 year's experience of medical practice. Recently I came across Gene-Eden, the antiviral dietary supplement. I have started to take the product as a means for prevention.
Gene-Eden combines several proven substances that work harmoniously to help boost the body's own immune system or have other antiviral properties. The scientific data with regard to the immune enhancing and antiviral properties published in reputable sources on each individual compound in the Gene-Eden formula is impressive. Use of this product clearly has scientific merit based on published material. Routine use of Gene-Eden in today's world makes a lot of sense.
The combination of these compounds into one supplement is unique and gives the user the ability to significantly reduce the risk and affects of many viral infections in a safe and convenient way. Eating well and leading a healthy lifestyle is often not enough. Anyone interested in longevity and long term quality of life should take this product on a routine basis or add it to their existing regimen of vitamins and nutritional supplements."
Dr. Norman Cohen, M.D.: Dr. Norman Cohen has over 25 years of surgical experience and is a nationally recognized expert in vein treatment. Having earned his doctorate in medicine from the Bowman Gray School of Medicine of Wake Forest University, his long career has made him a respected authority on varicose vein treatments, office based cosmetic procedures, and alternative health care methods. He has worked as the Medical Director and Practice Administrator of the Vein Clinic and Aesthetic Center in Jacksonville, Florida, and as the Medical Director of The Natural Medicine and Wellness Center of Jacksonville where he specialized in alternative and nutritional healing methods. Dr. Cohen has trained over 400 physicians and health care providers from all over the world.
For more information on Gene-Eden-VIR visit http://www.Buy-Gene-Eden.com.
Each ingredient was chosen through a scientific approach. polyDNA scientists scanned thousands of scientific and medical papers published in various medical and scientific journals around the world in order to identify the safest, most effective natural ingredients that target the latent (dormant) HPV, herpes, and other latent viruses.
Gene-Eden-VIR has been on the market for over three years and no side effects were reported by users during that entire time. Each capsule contains a patented formula of five all natural ingredients including selenium, camellia sinesis extract, quercetin, cinnamomum extract, and licorice extract. In addition, each bottle is GMP Certified.
Gene-Eden-VIR is sold online through the Gene-Eden website. Each bottle of Gene-Eden-VIR (a one month's supply) costs $37.99.
The public should not be concerned about invasions of privacy. Ordering Gene-Eden-VIR is completely secure and confidential.
Those interested in learning more about Gene-Eden-VIR, the only product on the market today that helps the body maintain low numbers of the latent Human Papillomavirus (HPV) and that is scientifically backed by published material should visit http://www.gene-eden-kill-virus.com, or call 585-250-9999.
###
polyDNA is a biotechnology company that develops dietary supplements using the unique scientific method developed by Dr. Hanan Polansky, which is based on Computer Intuition.
In addition to his unique scientific method, Dr. Polansky published the highly acclaimed scientific discovery, called Microcompetition with Foreign DNA.
The discovery explains how foreign DNA fragments, and specifically, DNA of latent viruses, cause most major diseases. polyDNA developed Gene-Eden-VIR (http://www.buy-gene-eden.com), an antiviral natural remedy that helps the immune system kill latent viruses.
.