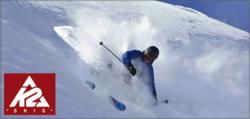 Saint Paul, MN (PRWEB) March 29, 2013
The House Outdoor Gear marked down hundreds of 2013 K2 ski products including skis, ski poles, ski goggles and helmets. Discounts of up to 36% on current year K2 products are effective immediately. Fifty two years in the business, K2 Sports is a long standing leader in the ski and snowboard industry. K2 pioneered fiberglass in ski technology, which revolutionized skiing as we know it today. Skis became lighter and livelier than their wood and metal contemporaries. Leading the charge with this product launch are the Aftershock skis and the women's SuperModel Series.
K2 Aftershock Skis
For expert and advanced/intermediate skiers, the K2 Aftershock Skis offers versatility and ease in all snow conditions. An all terrain rocker tip allows for easy turn initiation, versatility and agility. Camber beneath the bindings adds control, edge control and rebound. Simply put, the K2 Aftershock is the ski of the year for groomers and powder alike.
K2 Supersweet Skis
A women's specific model, the K2 Supersweet skis are perfect for novice and intermediate skiers. They have a forgiving flex that's user friendly. Catch-Free Rocker™ helps progressing skiers with confidence, control, and added ease. The elevated tip and tail assures stability throughout each turn, effortless initiation at slow speeds and a predictable release from the turn.
K2 Superstitious Skis
An ideal all-mountain ski for advanced to expert skiers, the K2 Superstitious skis are built specifically for women. All-Terrain Rocker™ has camber under foot for agility, speed and control with rocker tips for variable and soft snow performance. To enhance the versatility of these wider-waist skis, Progressive Sidecut adds a combination of two different radii that improve turn initiation and hard-snow performance.
K2 Superfree Skis
One of the most sought after skis in K2's SuperModels series, the women's specific Superfree Skis are designed for all snow conditions. Advanced and expert skiers will love the energy and control delivered in this high performance package. The All-Terrain Rocker™ allows women to fine tune their skills on or off trail.
K2 Superific Skis
The K2 Superific Skis are built for beginner and intermediate skiers who are looking to instill confidence and security on green or blue terrain. These ski's forgiving flex, lightweight construction, and All-Terrain Rocker profile are the ideal combo for developing skiers.
About The House Outdoor Gear
Founded in 1982, The House Outdoor Gear continues to be a family run operation delivering the best products in the Action Sports and Outdoor arenas. Snowboard and ski equipment continue to drive the business with wakeboards, paddle boards, windsurfing gear, bikes, footwear, backpacks, performance and lifestyle clothing, goggles, helmets, sunglasses and watches trailing close behind. The House Outdoor Gear is committed to delivering the widest variety on the internet at the best possible prices.