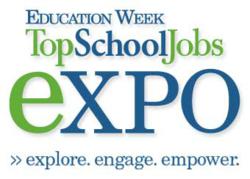 93% of K-12 job seekers and 89% of recruiters had never participated in a virtual job fair
Bethesda, MD (PRWEB) March 19, 2013
On March 21, 2013, from 10 a.m. to 8 p.m. EDT, Education Week will host a new, interactive job search and professional development experience—the TopSchoolJobs eXPO. This online job fair and career gateway is designed to connect current and prospective education professionals with the jobs, employers, and insights they need to navigate and excel in their K-12 careers. Individuals interested in participating in the eXPO can visit http://www.topschooljobs.org/expo2013.
At the TopSchoolJobs eXPO, job seekers can chat (text and video) with school districts, charter schools, and K-12 organizations across the U.S. Recruiters can search candidate résumés and market their organizations via virtual booths and live event advertising. The eXPO will also offer a unique mix of career and professional development content from Education Week, Gallup Education, and the American Association for Employment in Education. The first 1,000 participants will receive complimentary access to the Gallup Clifton StrengthsFinder 2.0 assessment.
The TopSchoolJobs eXPO will be a new experience for the vast majority of participants. According to a survey conducted by TopSchoolJobs in the fall of 2012, 93% of K-12 job seekers and 89% of recruiters had never participated in a virtual job fair.
"Our TopSchoolJobs eXPO is an innovative approach to advancing the human capital revolution underway in K-12 education," said Michele Givens, publisher at Education Week. "Now, more than ever, schools are deploying digital tools to recruit great teachers, and education job seekers are looking to understand deeply the career choices before them. The TopSchoolJobs eXPO is a 21st Century platform for launching great dialogue between recruiters and candidates."
After the live event, an interactive archive will remain open through April 21. During this 30-day period, candidates will continue to upload searchable résumés, apply to jobs, visit employer booths, access career advice, and view select, on-demand webinars previously featured during the live day.
About Education Week TopSchoolJobs:
TopSchoolJobs, the premier career resource in education, enables professionals across education fields to advance their careers. Recruiters, including school districts, private schools, not-for-profits, and international agencies, find top candidates by targeting our more than 600,000 registered users of edweek.org and nearly 150,000 Education Week readers.
Education Week is American education's newspaper of record, delivering comprehensive and unbiased coverage of the week's most important K-12 news—including district actions, decisionmaker interviews, policy developments, and the latest advances in technology, instruction, curriculum and school finance.
edweek.org is the leading online source for daily coverage of K-12 news and analysis, serving more than 600,000 registered users. More than an online edition of Education Week, the site delivers breaking news, original, online-only content, research tools, interactive blogs, expert chats, and webinars that help educators do their jobs well.