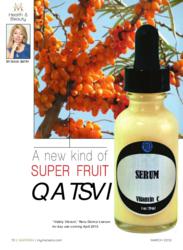 Discover "new" super fruit with Siberian origins.
Salisbury, NC (PRWEB) March 19, 2013
Maia Smith, a leading image and beauty expert and founder of Renu Derma Natural Cosmetics, is featured in the March issue of Mymaniera, a national digital magazine. The magazine article exemplifies Renu Derma's mission and the steps being taken in the research and innovative use of nature's ingredients. The Renu Derma brand is dedicated to promoting the benefits of natural ingredients in anti-aging products as well as providing education on the importance of a "green" lifestyle.
Mymaniera readers are introduced to sea buckthorn- a "new" super fruit with Siberian origins and an ancient relative to the acai berry. Growing up in her native country of Georgia, this was one of the natural "remedies" Maia Smith was exposed to through her grandmother's expertise in both pharmacy and cosmetology.
A few interesting facts about sea buckthorn:
Because the sea buckthorn plant traditionally grows in harsh cold climates, it has built up an arsenal of vitamins, minerals and antioxidants to protect itself. We simply reap the benefits of the plants' own self-defense system.
The vitamin C content in the berry is about 15 times greater than in an orange, making it among the most enriched plant sources of vitamin C.
Experts say sea buckthorn can be used for a variety of conditions ranging from reducing signs of cellulite, aiding weight loss, soothing acne to fighting fine lines on the skin.
Renu Derma experts researched natural sea buckthorn oil and were thrilled to enrich the products with this rich oil. Sea Buckthorn oil aids in protecting skin from sun damage due to components in the oil that can absorb UV rays. While this is not a full SPF substitute, the protective and anti- aging properties are exceptional. The natural betacarotene offers anti-aging benefits and provides a radiant glow.
Ms. Smith is also compiling material for an E-book to be released within the year which will contain valuable information about skin care, weight management and spiritual health.
"You can't truly achieve anti-aging only from the outside." Smith shares with her characteristic smile. "It's a complex process of regulating physical, emotional and mental health. Our mission at Renu Derma is to equip our customers with the information, products and tools they need to succeed in this journey."
Renu Derma Natural Cosmetics provides natural, anti-aging products for people who desire natural, effective skincare.
Maia Smith, Founder and CEO, is a leading Image and Beauty Expert who has appeared in women's magazines and newsletters. She has over twenty thousand page views and database of four thousand loyal members.
Contact Maia at http://www.renuderma.com
Tel: (866) 964 3932
Address: 103 S. Main St. Salisbury, NC 28144