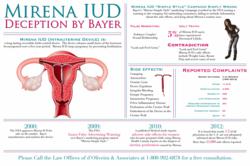 (PRWEB) March 18, 2013
Approved in 2000 by The U.S. Food and Drug Administration, the Mirena IUD (intrauterine device) works by releasing hormones that inhibit ovulation after it is inserted into the woman's uterus. As the popularity of the Mirena IUD grew, sold to over 15 million women worldwide, the volume of reports regarding serious side effects have significantly increased as reported by Bloomberg.com (i). With an increasing amount of negative reports flooding into the FDA regarding alleged side effects (the FDA has received approximately 45,000 adverse event reports regarding the Mirena IUD),
One of the lawsuits filed against Bayer includes an Indiana woman alleging that the device caused her permanent physical injuries (New Jersey Superior Court Case No. 61910-12). The possible side effects of using Mirena IUD, as stated by the FDA, include uterine perforation, pelvic inflammatory disease, ovarian cysts, amenorrhea, cramping, and irregular bleeding (iii).
Bayer has also been heavily criticized for its "Simple Style Program" advertisement, (ii) where the company specifically marketed the Mirena IUD as an excellent birth control option for busy mothers(iv). The company not only provided no explanation for why the device would be a beneficial option for busy mothers, it failed to disclose the risk of potential side effects. This caused the FDA to submit one of many warnings to the Bayer Company over its marketing of the Mirena IUD.
The new video released by d'Oliveira & Associates details increased reports on the potential hazards connected with using the birth control device. Accompanying the new video is a new infographic, which details the reported contradictions in Bayer's "Simple Style" Campaign and also Bayer's continuous attempts to dismiss the claims against the Mirena IUD device (v).
If you or a loved one has used and have been injured by the Mirena IUD, you may be entitled to compensation. The attorneys at d'Oliveira & Associates are working with some the most experienced Mirena IUD lawyers in the country who can file you a claim or Mirena IUD lawsuit on your behalf. With a "No Win, No Fee Promise," there is no fee until you receive a settlement or award.
Please contact the law offices of d'Oliveira & Associates, P.C. at 1-800-992-6878 or fill out a contact form for a free legal consultation.
Sources:
i. bloomberg.com/news/2013-01-28/bayer-sued-over-alleged-hidden-risks-of-mirena-contraceptive-1-.html
ii. fda.gov/downloads/Drugs/GuidanceComplianceRegulatoryInformation/EnforcementActivitiesbyFDA/WarningLettersandNoticeofViolationLetterstoPharmaceuticalCompanies/UCM197229.pdf
iii. fda.gov/NewsEvents/Newsroom/PressAnnouncements/ucm184747.htm
iv. fda.gov/downloads/Drugs/GuidanceComplianceRegulatoryInformation/EnforcementActivitiesbyFDA/WarningLettersandNoticeofViolationLetterstoPharmaceuticalCompanies/UCM197229.pdf
v. accessdata.fda.gov/drugsatfda_docs/label/2008/021225s019lbl.pdf