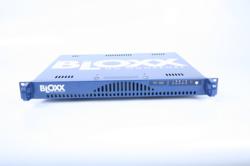 While our clients typically see online shopping and use of social media as major workplace productivity drains, they also see online gaming and gambling as part of that productivity loss
Boston, MA (PRWEB) March 15, 2013
Between keeping up with March Madness brackets, betting pools, fantasy football, and even more detrimental online gambling sites, can businesses get a fair shot from employees working – and playing – online during work hours?
"Not when you consider that most online searches and personal Web use occurs during business, not personal, hours," contends Eamonn Doyle, president of Web content filtering company Bloxx. "And given that, according to BusinessWeek, some 10-15 million Americans use the Internet for online gambling, you can guess the extent of the problem during major events like March Madness."
The Better Business Bureau reports a staggering $750 billion in lost wages due to personal workplace Internet use. "While our clients typically see online shopping and use of social media as major workplace productivity drains, they also see online gaming and gambling as part of that productivity loss," continues Doyle.
As the brackets for March Madness are finalized, is there much companies can do to prevent a surge of online gambling at work?
A first step is to remind employees about use of corporate Internet resources for personal use, according to Bloxx. Many companies have "acceptable use" policies that allow flexibility for some personal use of the Internet at work, such as for online shopping or social media posts during the lunch hours. But other activity such as pornography or online gambling, which subjects companies to potential liability and are often portals for damaging malware, must be clearly restricted. Acceptable use policies also need to inform employees that their online activities during work hours on company computers or networks, are subject to monitoring by the company.
There are a range of Web filtering tools on the market, most of which scan Web requests against of list of known problem URLs. "But with the huge growth of the Internet, these lists are almost instantly out of date," says Doyle.
Many companies are turning to next generation Web content filtering tools which analyze page content in real time to more accurately categorize and block gaming sites. These content-based Web filters can also spot so-called 'proxy' sites that employees often use to get around traditional filters.
Effective content-based Web monitoring tools also let companies spot company-wide abuse of online gambling during heavy sports seasons like March Madness, or even alert human resources staff to employees with workplace gambling problems. "Companies need a flexible acceptable use policy, but flexible and dynamic web filtering tools can help block any end runs on overall workplace productivity," concludes Doyle.