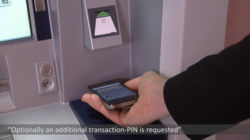 "Our application allows bank and credit union customers to withdraw cash — quickly, conveniently and securely — from an ATM using a smartphone instead of a debit card." Oliver Weber, President and CEO of Wincor Nixdorf U.S.
Austin, Texas (PRWEB) March 15, 2013
You forgot your wallet at home but need cash? No worries. Prepare the transaction on your smartphone with Wincor Nixdorf's Mobile app and withdraw cash at the ATM without a debit card.
Wincor Nixdorf, recognized as a global leader in the development of innovative self-service solutions for financial institutions and retailers, has further enhanced their Mobile Cash app by integrating it with Apple Passbook for iPhone making it easier and more convenient for consumers to withdraw cash.
For Android users, Wincor Nixdorf built a comparable function that has been integrated directly in the company's app.
Wincor Nixdorf, which introduced their Mobile Cash app in 2012, chose to integrate with Passbook because it is customer friendly. The QR code that is read at the ATM is stored in Passbook giving consumers easier access to this new technology.
"This technology is not an abstract concept — it's a reality and available for financial institutions to offer their customers today," said Oliver Weber, Chief Executive Officer of the company's Austin, Texas-based U.S. operations.
"Our application allows bank and credit union customers to withdraw cash — quickly, conveniently and securely — from an ATM using a smartphone instead of a debit card."
Wincor Nixdorf's Mobile Cash app allows consumers to save time by preparing their cash withdrawal in advance on their cell phone. The consumer is then sent a QR confirmation code and directions to the nearest ATM that supports Mobil Cash, if necessary. At the ATM, the customer simply selects the Mobile Cash function on the machine and scans the phone under the barcode reader.
According to Weber, the Mobile Cash app sends information from the phone to the application server which generates a token in the form of a QR code. The QR code, which is stored in Apple Passbook or Wincor Nixdorf's Mobile Cash app, is read at the ATM replacing authentication via a debit card. If the financial institution chooses, a transaction PIN can also be required as an additional security feature.
Android phones can also use near field communication (NFC), a set of standards for smartphones and similar devices to establish radio communication with each other by touching them together or bringing them into close proximity, for cardless ATM transactions. Apple has not yet enabled the iPhone for NFC.
"Many consumers already use smartphones and tablets to manage various aspects of their daily lives and financial institutions are under pressure to provide a similar level of customer access through these same devices," says Weber. "Our cardless ATM solution is the next logical step for banks and credit unions to meet increasing customer demand for greater convenience and cutting-edge technology."
For financial institutions interested in offering customers this new service, only a few extensions are needed; a barcode scanner and software will need to be installed on the ATM to read QR codes. Transaction Safe, a server component which handles communication for the financial institution, will also need to be integrated into the computer system. Wincor Nixdorf's cardless ATM mobile solution is being piloting by financial institutions worldwide.
Banks and credit unions interested in participating in the U.S. pilot program can contact Anissa Vaast at (512) 252-5622 or by e-mail at anissa.vaast(at)wincor-nixdorf(dot)com to learn more.
About Wincor Nixdorf
Wincor Nixdorf is one of the world's most successful IT solution specialists for process optimization at the consumer touchpoint, covering core industries of banking and retail. With its U.S. headquarters located in Austin, Texas, Wincor Nixdorf Inc. provides a broad range of innovative hardware and software solutions, complemented by high-end services to many of the world's biggest and best-known business organizations, that raise overall efficiency of procedures and workflow to improve consumer engagement and reduce operational costs. Wincor Nixdorf has a presence in more than 100 countries and annual sales revenue of about $3 billion.