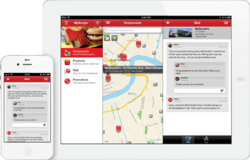 These new modules bring additional, unforeseen capabilities to the table.
(PRWEB) March 18, 2013
Resco, a leading provider of mobile software solutions for Microsoft Dynamics CRM, announces today the launch of new extra modules for its Mobile CRM solution.
Resco Mobile CRM is an acclaimed Microsoft Dynamics CRM mobile client with a rich feature set and advanced customization options. The Extras Update is introduced and showcased at Microsoft's Convergence 2013 conference. "The event offers a perfect ground for introducing our new modules. Where else can you find so many Microsoft Dynamics enthusiasts?" - Radomir Vozar, CEO at Resco.
"Our partners and customers are thrilled by the frequent releases of updates of our mobile solution. They already got used to the pace of adding new features. These new modules, however, bring additional, unforeseen capabilities to the table," adds Radomir Vozar.
The three new modules shape the future of innovation in areas of security protection, user monitoring & building of interactive applications for customers:
EnterpriseSecurity
Enterprise Security boosts the security of Mobile CRM to the maximum level. Companies can protect the business data with a wide selection of enterprise-class safety measures:

Remote Wipe-Out of data from the application
Session Time-Out that locks the app
Session Time Table and GPS Fencing restricts users to work within a given time period or location only
Session Speed disables the app when the device moves at speed over a predefined limit
Kiosk Mode - enables users to use nothing but the Mobile CRM app on the mobile device
UserAudit
UserAudit enables managers to keep an eagle eye on mobile users. They are able to track when & where the mobile users:

view, create or update data
synchronize the application
launch and exit the software
actually use Mobile CRM app
CustomerInteraction
Companies can reach out to customers, manage loyalty programs & see their customer retention grow by creating a branded app of their own.
Customers can then download a free app and use it whenever they want to:

be informed about company's nearest locations, services or special deals
obtain sale vouchers or news
actively engage with the company via chat wall
point out things that need improvement and praise what they like
Stop by at Resco's Booth no. 750 in Expo Hall at Microsoft's Convergence 2013, March 18th-21st, for a personal demonstration.
About Resco Mobile CRM
Resco Mobile CRM for Microsoft Dynamics CRM is an online/offline mobile client for iPhone/iPad, Android, Android Tablet, Windows Phone, Win CE and Windows 7/XP/Vista/8/RT. The application supports features such as custom entities, interactive maps, GPS tracking, photo capturing, dashboards, and many more.
The solution is fully customizable through easy-to-use configurator tool (Woodford), or with the use of a comprehensive .NET based developer platform that provides unlimited customization possibilities (Studio). Its technology leadership has been proven by adding the support of HTML5 and JavaScript, allowing extending the mobile CRM application by the means of web technologies.
For more information visit: http://www.resco.net/mobilecrm/
About Resco
Resco was founded in 1999. The company is one of the global leaders in developing cross-platform mobile software solutions. The team of Resco professionals passes on their knowledge of mobile device technology by designing products for corporate customers, developers, integrators and end users. The purpose? Optimizing work and improving productivity.
For more information visit: http://www.resco.net