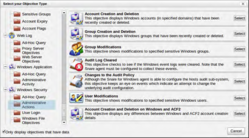 Snare helps you identify and monitor your sensitive assets.
Toronto, Ontario (PRWEB) March 20, 2013
Given today's economy, as well as the increase in threats both from APTs and Cyber espionage, Symtrex Inc is pleased to announce that Intersect Alliance, the creators of the Snare System, are offering a promotion. For a limited time (all those interested must register by April 15), they are offering the Snare Server with 25 Enterprise Snare Agents (exclusive of the MS SQL Enterprise Agent) for $3,999 USD which will include the first year maintenance and support. To find out more about this promotion, to schedule a webinar, request an evaluation of the system, please contact us. You can also register for this promotion, by clicking here.
The Snare Server version 6 which was officially released in November of 2012 is robust event log management system, which provides clear, concise, accurate reporting of the information that is pertinent to an organizations security and audit requirements. The Enterprise Snare Agents, build upon the open source Snare Agents, and provide significant enhancements such as the ability to send via TCP with caching, ability to send the data to two or more data collectors, ability collect custom event logs, the ability to monitor the registry of the windows OS and more. Snare helps identify and monitor sensitive assets - taking the exhaustive logs produced by a very wide range of network devices, applications and servers, and sifting through it all to try and find the activities that really matter
About Symtrex Inc.
Symtrex is a private IT security services organization, having been in business since 1988, we provide full network and security services for clients with solutions that range from IT security compliance to network security software and compliance reporting. Contact us at 866-431-8972 or visit the website at http://www.symtrex.com.
About Intersect Alliance International Pty.
Intersect Alliance is a team of leading information technology security specialists. In particular, Intersect Alliance are noted leaders in key aspects of IT Security, including host intrusion detection. Our solutions have and continue to be used in the most sensitive areas of Government and business sectors. The Intersect Alliance business strategy includes demonstrating our commitment and expertise in IT security by releasing open source products such as Snare, and the proprietary Snare Server. Intersect Alliance intend to continue releasing tools that enable users, administrators and clients worldwide to achieve a greater level of productivity and effectiveness in the area of IT Security, by simplifying, abstracting and/or solving complex security problems.
.