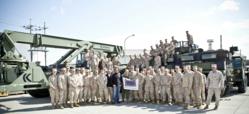 ... As a Vietnam veteran, I know how much it means to hear that your service means something, and that America recognizes your sacrifices. - Dayton Callie
Arlington, VA. (PRWEB) March 15, 2013
A trio of bad boy actors from the hit FX original series "Sons of Anarchy" are busy showing troops and military families their softer side. Actors Kim Coates, Mark Boone Junior and Dayton Callie, who spend their days on the set of the highest rated television series in FX history, recently left behind their characters for their second USO overseas tour together. Coates, Boone and Callie are busy extending America's thanks to troops and military families serving in Japan, Guam and Hawaii.
Details:

As part of their week-long adventure the actors visited troops and military families at Marine Corps Air Station Iwakuni in Japan. Later in the week, the group will visit troops and military families in Guam at Naval Base Guam and Andersen Air Base. The trio will wrap up their tour at Joint Base Pearl Harbor-Hickam in Hawaii.
This will be the second USO tour for Coates and Boone and the third for Callie. In 2010, the cast set out on their first USO tour together, along with fellow actor Theo Rossi, and delivered cheer and a touch of home to more than 2,000 troops in Kuwait and Iraq. Last year, Callie and Rossi, along with fellow "Sons of Anarchy" star Ron Perlman, spent a day visiting troops and military families at Marine Corps Air Ground Combat Center Twentynine Palms in California.
Last December, Coates teamed up with the USO to help spread the word about USO Wishbook, the USO's alternative giving catalog designed to support our deployed troops, military families, wounded warriors and their families and families of the fallen. Coates participated in more than 10 media interviews and encouraged last-minute holiday shoppers to visit USO Wishbook for their gift-giving needs.
"Sons of Anarchy" recently wrapped up its fifth season and has been renewed for Seasons 6 and 7.
Coates has appeared in more than forty films, including the Academy Award-winners "Black Hawk Down" and "Pearl Harbor." In addition to his role as 'Tig Trager,' Coates small screen credits include appearances on hit TV series such as "Prison Break," "CSI: NY," "Cold Case" and the HBO production "Dead Silence."
With more than three decades of acting to his name, Boone has appeared in major motion picture hits like "Batman Begins" and on-screen thrillers such as "Seven" and "30 Days of Night." Boone's behind the camera skills include writing and producing.
Best known for his role as 'Charlie Utter' on HBO's "Deadwood," veteran actor Callie's career spans an impressive two decades and includes appearances in over 20 off-Broadway stage productions as well as roles in film and television including "K-Ville," "CSI: Crime Scene Investigation" and "Derailed," among other projects.
Quotes:
Attributed to Kim Coates:
"This has been an eye-opening experience for me. On our first USO tour we visited deployed servicemen and women in Kuwait and Iraq. This time we were able to meet the families behind the brave men and women who serve our country, it was a humbling experience."
Attributed to Mark Boone Junior:
"I was hooked after my first USO tour, it was an honor being able to personally thank our troops for their service. Everyday military families are making sacrifices for our nation and I'm just glad that I get to tell them how much we appreciate everything that they do."
Attributed to Dayton Callie:
"Letting our troops know how much they are appreciated is what these trips are all about. As a Vietnam veteran, I know how much it means to hear that your service means something, and that America recognizes your sacrifices. That's why going on these USO tours means so much to me, it's a chance for me to say 'thank you' to my brothers and sisters in the armed forces."
For more information about the USO, visit uso.org.
Multimedia:
USO Tour Photos: http://bit.ly/XYhHQ1
USO Fact Sheet: http://bit.ly/wrrYmh
# # #
About the USO
The USO lifts the spirits of America¹s troops and their families millions of times each year at hundreds of places worldwide. We provide a touch of home through centers at airports and military bases in the U.S. and abroad, top quality entertainment and innovative programs and services. We also provide critical support to those who need us most, including forward-deployed troops, military families, wounded warriors and families of the fallen. The USO is a private, non-profit organization, not a government agency. Our programs and services are made possible by the American people, support of our corporate partners and the dedication of our volunteers and staff.
In addition to individual donors and corporate sponsors, the USO is supported by President's Circle Partners: American Airlines, AT&T, Clear Channel, The Coca-Cola Company, jcpenney, Jeep, Kangaroo Express, Kroger, Lowe's, Northrop Grumman Corporation, Procter & Gamble, and TriWest Healthcare Alliance and Worldwide Strategic Partners: BAE Systems, The Boeing Company, Lockheed Martin, Microsoft Corporation and TKS Telepost Kabel-Service Kaiserslautern GmbH & Co. KG. We are also supported through the United Way and Combined Federal Campaign (CFC-11381). To join us in this patriotic mission, and to learn more about the USO, please visit uso.org.