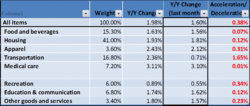 "...we have all eight major subgroups [of the CPI] accelerating, which is something that hasn't happened in decades. Coincidence?"
Morristown, NJ (PRWEB) March 15, 2013
The monthly Consumer Price Index release this month was like a duck - calm and unruffled on the surface, but hiding a good deal of interesting activity underneath.
The Bureau of Labor Statistics (BLS) today reported that headline inflation was slightly higher-than-expected in February at +0.7%, due to a 9.1% rise in energy, but core inflation (which is more important for forecasters and policymakers) rose an as-expected +0.17%. The year-on-year increase in core inflation, as a result, rose to 2.004% from 1.918% and reached the highest level since last July.
Many economists will yawn at that result, but according to Enduring Investments they will in this case be missing the trees for the forest! Michael Ashton, Managing Principal at Enduring Investments, points out that "All eight major subgroups of the CPI - food and beverages, housing, apparel, transportation, medical care, recreation, education and communication, and other - accelerated on a year-over-year basis. Since these eight major subgroups have existed, about twenty years, that has never happened." (See chart at right).
That won't happen every month, of course. There are hundreds of item-level indices in the CPI and on any given month there are scores or hundreds of them accelerating or decelerating in opposition to their main trends. But is there any underlying significance to this remarkable occurrence?
"This unanimity is extremely rare. Even in 2008, all eight groups never declined," notes Ashton. "What happened this month is a real rarity, and it is hard to believe that this is unrelated to the Fed's determination to avert deflation and to push prices higher to help underwater mortgagees. In 2010 through 2012, we had fifteen consecutive increases in the year-on-year core CPI, something which hadn't happened since the 1970s. Now we have all eight major subgroups accelerating, which is something that hasn't happened in decades. Coincidence?"
Enduring Investments believes that the biggest risk to continued acceleration in the core CPI, which they anticipate will come, continues to be the upward pressure on rents from the recent surge in housing prices. But they also point out that core goods inflation is only 0.3% year-on-year. "If core goods begin to behave anything like core services, our forecast for a 2013 core inflation reading of 2.6%-3.0% could actually prove to be optimistic."
Enduring Investments is a New Jersey-based specialty investment management firm with a focus on inflation and inflation markets.