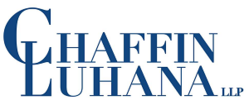 New York, NY (PRWEB) March 21, 2013
Chaffin Luhana LLP, a national plaintiffs-only law firm with offices in New York and the greater Pittsburgh area, today commented on the $8.35 million verdict in the first DePuy ASR hip lawsuit to go to trial, (Kransky (Ellis) v. DePuy, et al., No. BC456086 (Los Angeles Super. Ct.) stating that the award was justified and that they were pleased that plaintiff Loren Kransky received the compensation he deserved.
"It was clear to us from the court documents that DePuy Orthopaedics should have done much more than they did to protect public safety," said Eric Chaffin, co-founder of the firm.
Montana resident Loren "Bill" Kransky filed his DePuy ASR lawsuit in 2010. In his complaint, he stated that he had been implanted with the hip device in 2007, but later experienced constant pain, difficulty walking, and high levels of cobalt and chromium in his bloodstream. He eventually had to go through risky revision surgery, which according to Bloomberg, he dreaded.
"I came to believe that I was going to have to do it because I was told that something in my body was poisoning me," Kransky testified. "I was told it could be the hip."
The first of over 10,000 DePuy ASR lawsuits to go to trial, the Kransky case may provide clues as to how juries may react to future cases. Though DePuy has stated that it will appeal the decision, noting that jurors weren't allowed to hear the FDA's review and clearance of the device.
According to HarrisMartin, the jurors found for Kransky on damages for medical costs and on invisible injuries and emotional suffering and distress, awarding $338,236 in economic and $8 million in non-economic damages. They found that the device was defective, and that it injured the plaintiff, but did not agree that DePuy was liable for fraud or malice. All but one juror concluded that DePuy didn't owe punitive damages.
The FDA approved the DePuy ASR for use as a total hip replacement in 2005, but in August 2010, DePuy Orthopaedics recalled the device due to a higher-than-acceptable failure rate.
Chaffin Luhana LLP has a long and successful history of protecting the rights of those affected by the serious side effects of medical products like the DePuy ASR hip replacement device. Partners Eric Chaffin and Roopal Luhana represent high-profile cases in federal and state courts across the country, and provide new online resource centers for clients and the public. To date, Mr. Chaffin and Ms. Luhana along with co-counsel have been involved in recovering over $900 million for injured consumers. Both have been named to the prestigious New York Metro Super Lawyers list, and though unable to guarantee results, the firm has a distinguished track record of success and is highly committed to each case.
If you or a loved one has suffered an injury after implantation with the DePuy ASR hip device, contact Chaffin Luhana LLP for a free and confidential case review at 1-888-480-1123, or visit their website at http://www.chaffinluhana.com.
CONTACT
Eric T. Chaffin, Esq.
CHAFFIN LUHANA LLP
600 Third Avenue, 12th Floor
New York, New York 10016
West Virginia Office (Outside Pittsburgh)
3054 Pennsylvania Avenue
Weirton, West Virginia 26062
Toll Free Telephone: (888) 480-1123
Toll Free Fax: (888) 499-1123
Attorney Advertising. Prior results do not guarantee or predict a similar outcome with respect to any future matter. Chaffin Luhana attorneys are admitted in Pennsylvania, West Virginia, Ohio, New Jersey and/or New York. They handle cases Nationwide in association with other counsel.