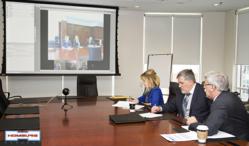 Learning is a social activity
ZURICH, SWITZERLAND (PRWEB) March 15, 2013
Academic Board of Homburg Academy has today approved two new Bachelor programs: the BSc in Real Estate Development, and the BSc in Real Estate Finance and Investment, to begin in September 2013.
The first of their kind to be offered entirely online, these interdisciplinary real estate programs are taught by specialists in diverse faculties and professional backgrounds, and feature integrative case studies, workshops, and capstone projects.
"These programs enable students to integrate courses as diverse as architecture and design, construction and project management, business, finance, law, and marketing, with a range of interesting electives,"said Academic Board Chair Dr. Tom Geurts. "The curriculum ensures that students integrate the courses in a real interdisciplinary experience, which mirrors the reality that real estate developers and investors face every day."
The curriculum has been under development for over two years, with the participation of faculty and industry advisors. Courses will be taught by 70 top real estate instructors in 13 countries using on-demand video lectures, interactive social media learning, and weekly real-time video conference seminars.
"Learning is a social activity and these programs will use online technology in a supportive framework," said Dr. Geurts.
"We are excited to offer these programs to students", said Dr. Jarrod Wiener, President of Homburg Academy. "Academic Board's decision today enables students to attend world-class programs in real estate development, finance, and investment, through an innovative online learning experience, that is international in the truest sense of the word.
The program fee has been set at $24,000 Cdn for the entire 4 year program comprising 40 courses. Over 20 full and partial scholarships will be available to students on a competitive basis.
Academic Board includes: Dr. Gordon Brown FRICS, Mr. Don Caplan CMC, Dr. Ron Collins PhD, Dr. Juan Diaz PhD, Dr. Tom Geurts PhD, Dr. Pat Hendershott PhD, Ms. Patricia Lynn CCIM , Ms. Catherine Powell JD, Mr. Roger Staiger FRICS.
Further information is available at: http://homburgacademy.org/programs/undergraduate
CONTACT:
Mr Craig Dodge
1-902-892-7164
C.Dodge(at)homburgeducation(dot)org