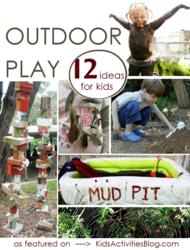 Build an amazing volcano in the backyard with the kids this spring or go outside to preserve a wonderful spiderweb.
Dallas, Texas (PRWEB) March 19, 2013
Spring time is outdoor time! Simply brilliant things to do outside and free things to do with kids have been researched over years worth of blogs and the best have been published on Kids Activities Blog.
Amazing outdoor muddy ideas include making a snail garden, creating a floating flower display, building a volcano in the backyard, and for the daring Moms building a mud pit. Other ideas include how to preserve a spider web, creating natural crafts such as crowns and necklaces, making dirt soup, and creating a homemade water table that will entertain toddlers for a long time.
Free things to do ideas include building a fort with tarp, a sheet, or jackets. The kids will like this classic idea in any way shape or form.
Playing with sticks found in the yard is another classic activity for kids. If there are no sticks, get out some wooden spoons or spatulas.
Another amazing yet simple idea is exploring shadows. Kids love to trace, chase, and spot shadows.
For detailed instructions and to get brilliant activity ideas, check out Kids Activities Blog this week. Come get inspired to let the kids have a blast with brilliant activities that sneak in learning while having lots of fun.
About Kids Activities Blog
Kids Activities Blog is a website created by two moms (who collectively have 9 children), Rachel Miller and Holly Homer from June Cleaver Nirvana. It is their daily goal to inspire parents and teachers to play with kids. This interactive website publishes simple things to do with kids twice a day. Kids Activities Blog is a great tool for moms and teachers to find kid-friendly activities that create memories and sneak learning into the fun.