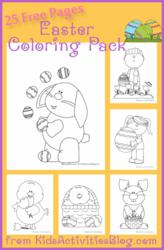 Color the fun pages with anything but crayons or markers to turn them into art projects.
Dallas, TX (PRWEB) March 20, 2013
Over 25 adorable Easter coloring pages and cute March coloring pages have been published on Kids Activities Blog. These super creative coloring pages can turn into a canvas for the kids work of art by using any of the creative ideas suggested on Kids Activities Blog.
These coloring pages for kids are the perfect quiet activity for a March afternoon at home, a fun Easter party, or for any March school activity. The 25+ Easter pages feature a wide variety of Easter related pictures. These range from chicks, to children, to eggs, to Easter egg hunts, baskets, bunnies, tulips, boys and girls. These coloring pages are perfect for younger and older kids alike.
The adorable March coloring pages feature the word March decorated with daffodils and dragonflies, an elf napping by a toadstool, and three mushrooms or toadstools happily in the March breeze.
There are many suggestions for filling out the pages with anything but markers and crayons. They include coloring with water colors, filling in the designs with tissue paper and glue, glitter and glue, mosaic pieces, or constructions paper and glue, and using seeds or other items found in nature to cover the pages.
For detailed instructions and to get additional fun seasonal coloring pages, check out Kids Activities Blog this week. Come get inspired to get the kids coloring the fun way.
About Kids Activities Blog
Kids Activities Blog is a website created by two moms (who collectively have 9 children), Rachel Miller and Holly Homer from June Cleaver Nirvana. It is their daily goal to inspire parents and teachers to play with kids. This interactive website publishes simple things to do with kids twice a day. Kids Activities Blog is a great tool for moms and teachers to find kid-friendly activities that create memories and sneak learning into the fun.