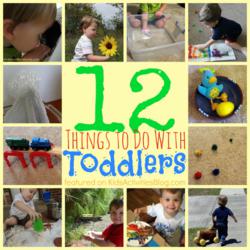 Make DIY bubbles out of baking soda and vinegar or create floating bouquets together with the toddlers this spring!
Dallas, Texas (PRWEB) March 21, 2013
Ever wondering what else to do to keep toddlers busy? Well, look not further. Kids Activities Blog has released over 12 playful things to do with toddlers and 40+ awesome activities for two year olds. The resourceful list is divided into inside and outside play ideas, super creative and plain silly activities, developmental and simply fun things to do to keep everyone busy for hours.
Inside activities include fun ways to learn and play with a cardboard tube, clear box magnet ideas, train color matching, baking soda and vinegar bubbles, moon art, DIY constellation creation, and a fun game of chain reaction.
Outside play ideas include going for a flower, insect, or even sound hunt, playing with Cocoa cloud dough, and creating a leaf collection.
Activities that aid motor development include making bracelets from cut up straws, lots of fun kitchen tong games to pick up things, building ideas with craft sticks, and making fun collages together. Balancing games are also fun activities that sneak in a bit of learning.
Simply fun and silly activities include bead and pipe cleaner ideas to make silly sculptures, making a light box and watching the kids interact with it, creating lots of art with sponges, making animal tracks in play dough, mixing together glitter slime, shredding paper with scissors, creating sensory bags, and playing with pedals in a floating bouquet.
For detailed instructions and to get additional super fun toddler activity ideas, check out Kids Activities Blog during March. Come get inspired to get the toddlers having lots of fun while sneaking in a bit of learning.
About Kids Activities Blog
Kids Activities Blog is a website created by two moms (who collectively have 9 children), Rachel Miller and Holly Homer from June Cleaver Nirvana. It is their daily goal to inspire parents and teachers to play with kids. This interactive website publishes simple things to do with kids twice a day. Kids Activities Blog is a great tool for moms and teachers to find kid-friendly activities that create memories and sneak learning into the fun.