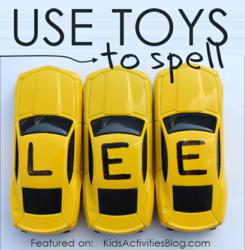 Use toy cars and color chips to introduce how to spell names.
Dallas, Texas (PRWEB) March 22, 2013
Creative name game ideas and activities for kids learning to spell names have been released on Kids Activities Blog. These name activities for preschoolers and toddlers will have the kids engaged in learning play.
One fun way is to write letters on the roof of toy cars. The kids can park the cars in a line and spell names. After the parents checks the spelling, the kids simply continue to play with the cars.
Another super creative way for teaching how to spell names is by using different shades of color chips. These can be found in hardware departments or paint stores. The gradual change of shade of each color provides an extra bonus to guide the child while learning how to correctly spell his or her name. Simply use 1 inch vinyl letters and stick them on top of the color chips and ready is the fun game.
A simple pre-reading activity for toddlers and preschoolers includes a fun magnetic letter matching game. To set up the game, clear off the bottom of the refrigerator and write neatly the alphabet on a wipe off board so the letters match the size of the available letter magnets. Write either all capitals, or all lower case, write them in alphabetical order (for beginners), or write them scrambled, or mix and match upper case and lower case letters.
Depending on the letters written on the board, let the child match the magnets with the letters and encourage and cheer the child on as he or she begins to practice matching the magnetic letters with the letters on the board.
For detailed instructions and to get additional fun learning activities for preschoolers and toddlers, check out Kids Activities Blog this month. Come get inspired to get the kids learning the fun way.
About Kids Activities Blog
Kids Activities Blog is a website created by two moms (who collectively have 9 children), Rachel Miller and Holly Homer from June Cleaver Nirvana. It is their daily goal to inspire parents and teachers to play with kids. This interactive website publishes simple things to do with kids twice a day. Kids Activities Blog is a great tool for moms and teachers to find kid-friendly activities that create memories and sneak learning into the fun.