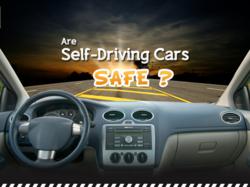 It is estimated that by 2040 over 75% of the vehicles on US streets shall be autonomous or driverless.
San Jose, CA (PRWEB) March 15, 2013
On Friday, MapsofWorld.com the leading content and mapping portal, launched a new infographic poll – Are Self-Driving Cars Safe?
The researchers at MapsofWorld.com have put together a comprehensive infographic with facts and stats about driverless car technology. It is estimated that by 2040 over 75% of the vehicles on US streets shall be autonomous or driverless. In August 2012, Google announced that its driverless cars had made it across 300,000 accident-free miles and weathered various traffic conditions. The infographic comes up at a very opportune time when Google driverless cars are being much talked about.
The infographic explains the technology on which these autonomous vehicles are to be based. Automobiles are likely to undergo major changes in design and structure with the proliferation of autonomous cars. Will Google take the lead? Will automobile giants like Nissan and BMW show the way? The infographic attempts to explore all these aspects and more. The infographic analyses the incidences of motor accidents and crashes in the US and attempts to find out if self-driving cars will make a difference. Another important factor explored is the difference that the technology promises to make to the environment.
Mapsofworld.com is one of the world's largest mapping and content portals and has been an important research aid since 2003. The site has over 25 million map downloads to its credit and has drawn over 66 million visitors till date. Since 2011, MapsofWorld has introduced a series of infographics about topics of global or social concern.
About the company:
MapsofWorld.com is a multilingual portal offering high-quality maps and information across geographies and platforms. With special focus on educational content, the portal has thematic as well as interactive maps on all major platforms: Web, iPhone, iPad, iPod, and Android. World Atlas and World Quiz are two highly successful educational apps have been downloaded. Other services offered are custom mapping, content digitization, and the online map store.
For more information, please contact:
social(at)mapsofworld(dot)com
MapXL Inc.
10 S. Third Street, Suite 310,
San Jose, CA 95113