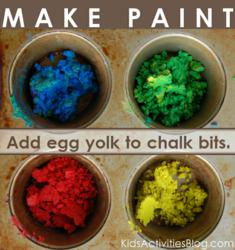 Fizzing sidewalk paint sneaks in learning while having lots of fun.
Dallas, TX (PRWEB) March 26, 2013
Painting is simply fun for kids. Making homemade paint is even better. Kids Activities Blog has published a super colorful and simple to do paint recipe for kids and an amazing fizzing sidewalk paint recipe that will delight any kids' hearts.
Both paints are perfect for a creative, colorful afternoon on the sidewalk in the spring. The kids will love to mix, paint, and hose down the sidewalk or patio once playtime is over.
Ingredients needed to make the colorful paint are leftover scraps of chalk and slivers of chalk pastels and some egg yolk. Separate the chalk colors and soak them in water for about 15 minutes until they are slightly mushy. Then use a hammer and slightly break down the wet chalk into a powdery paste. Add egg yolk until the powder has reached the desired consistency that it can be painted with.
As a tip, flash boil the egg slightly beforehand to kill any potential salmonella bacteria before mixing it into the chalk.
Once the paint is done, let the kids have fun painting anything that has to be painted outside. Remember, the paint washes off easily!
Fizzing sidewalk paint is super cool, too. The kids will be asking for more once it is all gone. Ingredients needed are food coloring, baking soda, corn starch, and some water. Mix the ingredients together according to the recipe provided on Kids Activities Blog. The sidewalk paint will fizz once the kids will spray it with vinegar. The vinegar can be put in water guns to make it extra fun.
Cleaning up the colorful mess is super simple. A bucket of water and lots of eager helpers will transform the sidewalk or patio back into its shining glory. Turn the fun into a little science lesson by teaching the kids about the chemical reaction between an acid and a base.
For detailed instructions and to get additional fun recipes, check out Kids Activities Blog this month. Come get inspired to make together with the kiddos colorful and cool sidewalk paint.
About Kids Activities Blog
Kids Activities Blog is a website created by two moms (who collectively have 9 children), Rachel Miller and Holly Homer from June Cleaver Nirvana. It is their daily goal to inspire parents and teachers to play with kids. This interactive website publishes simple things to do with kids twice a day. Kids Activities Blog is a great tool for moms and teachers to find kid-friendly activities that create memories and sneak learning into the fun.