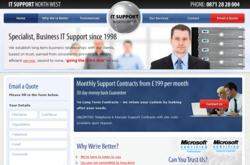 There are many things you can do to make sure your PC lasts and doesn't contract any nasty viruses. Many of our tips are FREE and crucial to your computer's health
Liverpool, Merseyside (PRWEB) March 15, 2013
Established in 1998, Liverpool IT Company, ICU has been providing expert consultancy and IT support services throughout the Northwest of England for more than 12 years.
Tony Walker, Managing Director of the Liverpool IT Support Company says "There are many things you can do to make sure your PC lasts and doesn't contract any nasty viruses. Many of our tips are free and crucial to your computer's health."
The Liverpool IT Support expert added, "If you are not sure how to go about installing anti-virus software ask a knowledgeable friend or a local IT company for advice"
Here are the tips by Liverpool IT Company ICU:
1. Install Anti-Virus Software from a recognised software company. AVG offer a complimentary anti-virus solution for non-commercial use. Keep your virus files up to date and run full scans of your computer regularly.
2. Install anti spyware software on your machine. There are many free versions available for non-commercial use. Make sure you keep your protection files up to date and run full scans of your computer on a regular basis.
3. Install all Microsoft Security Updates applicable for your PC. Go online to see if your computer is up to date.
4. Try not to open emails from people you haven't heard of. If you do open an email from someone you don't know, don't open any attachments.
Try not to click on any links included within emails unless you are 100% sure who sent it to you.
If you receive an email from somebody you know and it just doesn't read right, assume it is somebody masquerading as them. Chances are your friend's machine may have been hijacked by a virus. Give them a call to be on the safe side.
5. Avoid letting anybody else use your computer and always lock it when leaving it unattended to prevent unauthorised use.
6. Always shut down Windows properly before transporting your equipment and avoid any sudden shocks (drops, bangs etc) to the computer whilst in transit.
If you have a laptop or notebook ensure you use a quality padded carry case and avoid any unnecessary movement to prevent damage to the computers components during transit (don't leave your notebook loose in your car boot!).
Keep all drinks and food away from your computer and locate your PC somewhere that enables it to ventilate. Avoid leaving laptops on settees or bed covers as they may overheat.
7. Do not install any software or data from CD's, DVD's or memory sticks unless you are 100% happy with the source.
Avoid overloading your computer with lots of 'free' software recommended by magazines etc.
They can end up slowing down your PC, using up valuable disk space and can conflict with other 'well meaning' applications.
8. Avoid connecting to public WIFI spots. Ensure your own wireless network is protected with strong encryption to prevent unauthorised access.
9. It sounds obvious, but don't submit your credit card details to any website you don't trust.
Avoid storing any credit card details, website login details (especially on-line banking) on your PC. If your machine is hacked this is the kind of information the hackers will be targeting.
10. Apply a password to your computer's login account which consists of a combination of numbers, letters and preferably punctuation marks.
"I hope these tips help you surf the net safely and make sure you get the longest possible life from your IT equipment" said the provider of Lancashire IT Support services, Tony Walker.
"If you are having any difficulty and you are based in the North West our support desk is open 8am to 5.30pm and is manned by expert technical staff," explains Tony.
"We offer fixed price, monthly support contracts which can help with all of the above," commented Mr Walker.
From their head office in Liverpool, Lancashire IT support company ICU helps clients across the North West of England and North Wales, mainly in the Bolton, Preston, Warrington, Liverpool and Manchester areas.
This press release was issued as part of an SEO campaign by Manchester Search Engine Marketing Specialists - Vizcom