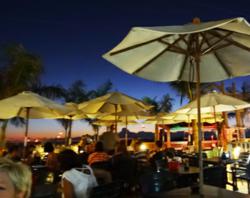 We have visited over 250 of Florida's Best Beach Bars. Each year we ask other beach bar fans to vote for their favorites and then we publish the results.
Sarasota, Florida (PRWEB) March 19, 2013
FloridaBeachBar.com announced today the launch of the third annual Best Florida Beach competition to determine the state's Top 10 beach bars for 2013. Visitors to the company's web site pick their favorite from a list of over 250 bars. After final votes are cast at midnight on April 30, results are combined with the company's bar ratings to produce the winners.
FloridaBeachBar.com will reveal the top 10-ranked beach bars and the best beach bar in Florida.
Located in Sarasota, Florida, FloridaBeachBar.com provides top guides and maps to the most popular and fun beach bars throughout Florida. Founders John and Chris Sancin have visited each of the 250 plus beach bars listed on the site. As a leading guide on beach bars, the company also specializes in delivering informative listings on tiki bars and waterfront restaurants.
The idea of Florida Beach Bar began – surprisingly enough – at a beach bar. When John and Chris Sancin moved from Ohio to Florida, they "started taking weekend convertible rides to local beach bars to find the best beach bars around." After conferring with with friends about the idea, the web site listing was born. Today FloridaBeachBar.com is a comprehensive, interactive guide to some of the top beach bars in Florida.
For more information visit the company's web site at floridabeachbar.com. Visitors can vote for a favorite beach bar at http://www.floridabeachbar.com/vote/