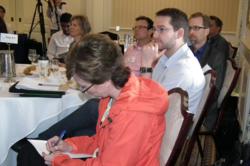 I think this conference offers unique opportunity to learn from top academics and share ideas with researchers representing an array of industries.
Philadelphia, PA (PRWEB) March 19, 2013
TRC, a firm specializing in new product research and analytics (http://www.trchome.com), announced today their upcoming one-day market research conference at the Yale Club of New York City on May 13th, 2013.
The speakers will come from top business schools and TRC. Assistant Professor of Business Administration Doug Chung from Harvard Business School, Professor Olivier Toubia from Columbia Business School, Research Professor of Marketing Vicki Morwitz from the New York University and Professor of Marketing and Consumer Psychology Joydeep Srivastava from the University of Maryland will join Michael Sosnowski from TRC. They will focus on the advances in idea generation, mobile market research, research ROI, pricing research and brand perceptions.
Register for the market research seminar.
"I think this conference offers a unique opportunity to learn from top academics and share ideas with researchers representing an array of industries," says Richard Raquet, TRC's President.
The one-day market research seminar themed "The Frontiers of Research 2013" will be divided into five sessions:
1/ Involving Consumers in Idea Generation, by Olivier Toubia, PhD, Professor of Marketing, Columbia Business School
Olivier will discuss several issues that arise when firms involve consumers in idea generation. In particular, how do we motivate consumers to provide thoughtful ideas, how do we screen and evaluate large numbers of ideas, how can we modify the idea generation task to increase the quantity and quality of ideas submitted by consumers?
For each of the above questions, Olivier will present results from one or two research papers that give rise to practical solutions.
2/ The Flutie Effect: Do Collegiate Athletics Impact Admissions?, by Doug Chung, PhD, Assistant Professor of Business Administration, Harvard Business School.
The Flutie Effect refers to alleged spikes in collegiate enrollment following athletic success of the college. To investigate whether such a phenomenon really does exist, Doug used advanced econometric modeling to circumvent privacy laws that prevent data on applicant quality from being directly observed. His analysis of Division I FBS (Football Bowl Subdivision) college football teams shows several interesting results, and sheds light on how collegiate athletics affects both the quantity and quality of students applying to a particular college.
3/ Asking Questions Changes Respondent Behavior: Some Unintended Consequences of Market Research Surveys, by Vicki Morwitz, Ph.D., Research Professor of Marketing, New York University, Stern School of Business.
Simply measuring customers' responses to questions on a market research survey can change their behavior. For example, measuring customers' intentions to buy a product can change their later actual likelihood of buying that product. Measuring customers' satisfaction can make them more loyal and profitable customers. Vicki will outline factors that influence these measurement effects and provide explanation for why they occur.
4/ When Should You Nickel and Dime Your Customers? by Joydeep Srivastava, PhD, Professor of Marketing and Consumer Psychology, the University of Maryland.
Price partitioning or the tactic of dividing the total price into two or more mandatory components is common in the marketplace. Every manager setting prices has had to wrestle with whether to partition – charge separately for everything such as warranty, installation, internet – or to bundle everything into one total price. Joydeep Srivastava will discuss a framework for when and when not to partition prices.
5/ Doing More with Less: Getting Greater Value from Mobile Quant, by Michael Sosnowski, Executive Vice President, TRC
Michael Sosnowski will look to expand our definition of what 'more with less' means with respect to mobile market rersearch, and use examples from traditional online studies to challenge existing assumptions about what will and will not work on a mobile service. He will demonstrate this by using data from a recent effort to conduct effective and rigorous max-diff – like research among a population of on-device respondents.
About TRC Market Research, a product development market research firm
TRC Market Research is a new product development market research and analytics firm that pairs customized solutions with senior-level attention to help solve business problems. TRC provides expertise in designing and implementing successful choice-related research, including product configurators, discrete-choice conjoint analysis, max-diff tournament and other analytic techniques.
Philadelphia based TRC Market Research is affiliated with CASRO, ESOMAR and the American Marketing Association.
For more information, call Lenka Kolar at 215.641.2225 or visit http://www.trchome.com.