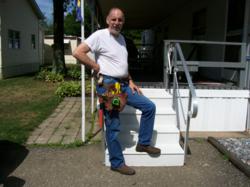 DIY-er can save hundreds of dollars by making their own toilet repairs
(PRWEB) March 18, 2013
DIY Home Fix Tips is constantly on the lookout for ways to make home repairs more efficient and less expensive.
This month, DIY Home Fix Tips explains how a DIY-er can save hundreds of dollars by making their own toilet repairs.
Toilets are a notorious for two things;
1. - Running too much
2. - Not having enough water to make a good flush.
Since newer toilets use only about 1 1/2 gallons of water per flush, it is very important to have the proper amount of water in the tank to start with in order to get a good flush.
Constant running can be caused by several things, but one of the more common reasons is that the fill valve is allowing water to rise too high in the tank and it then overflows into the overflow tube.
Most toilet water fill valves can be adjusted to raise or lower the water level inside the toilet tank.
Making a small adjustment only takes a couple minutes and can save a whole lot of stress and/or wasted water and money.
Although most fill valves are adjustable, some are not, and often the adjusting screw is so corroded that adjusting is not possible. In those cases, a new water fill valve will need to be installed. DIY ers will find some helpful tips on how to accomplish this on DIY Home Fix Tips' blog post this month.
About DIY Home Fix Tips:
The DIY Home Fix Tips blog treats their readers to quality, no bull info, tips, advice, videos and helpful product ideas related to DIY home repair. Brian Whiteman, the blog's author, has spent over 35 years designing, building, remodeling, and repairing residential homes. Mr. Whiteman is still active in repairing homes in the Erie, Pa. area. For more information about DIY Home Fix Tips, please visit http://www.diyhomefixtips.info.