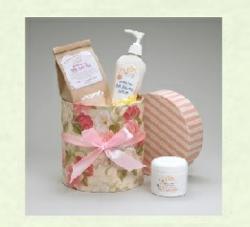 The contests are a great opportunity for earth lovers to show their support for organic and sustainable green products.
Stanton, New Jersey (PRWEB) March 19, 2013
Stylish Organics launched two contests that have been running during its month long March Anniversary Celebration. Both contests ask entrants to show their support for organic and eco-friendly products through their comments and participation in spreading the word.
The first contest is a pinned post on their Facebook page that asks for comments and shares on the statement "I love Organic T-shirts because…" The winning entry receives an Organic Tee. The second calls for all those in support of organic and eco products to re-tweet from the Stylish Organics Twitter page the tweet marked as favorite. This winning entry will receive an Organic Hand Cream. Both contests run until the end of March, with the winners being picked at random. Both links can be found at http://www.stylishorganics.com.
"The contests are a great opportunity for earth lovers to show their support for organic and sustainable green products," commented Toni Anweiler, a customer of the online eco store. "It also shows support for the Stylish Organics ecommerce boutique and the great job they are doing in making beautiful earth friendly products available and easy to shop for." The benefits of environment friendly products are two-fold. Organic products provide consumers with a purer product that eliminates toxic chemicals or synthetic ingredients that may cause skin irritations or possibly more serious health problems. Organic growing methods and use of sustainable resources benefit the environment by naturally replenishing, eliminating release of toxic chemicals into soil and ground water, and promoting ecological balance.
Follow other anniversary celebration offered discounts on the Stylish Organics website which also offers links to their Facebook and Twitter pages.
About Stylish Organics
Stylish Organics is an e-commerce boutique offering a collection of products selected for earth friendly properties from environmentally responsible manufacturers. The company's easy to shop; one-stop-shopping, venue enables those committed to green living to combine savvy styling with earth friendly thinking. Many of their products are made in the USA or are ethically sourced from organizations that globally support women. The boutique is based in Stanton, New Jersey and is available to consumers on-line with shipping provided to locations in the United States and Canada. They can be reached via their website, email - contactus(at)stylishorganics(dot)com or by calling 800.581.6417.