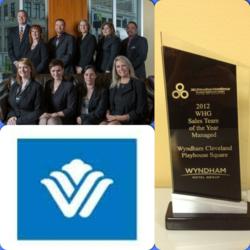 Cleveland, Ohio (PRWEB) March 19, 2013
The Wyndham Cleveland at PlayhouseSquare today proudly announced that the hotel's sales team has been named the Sales Team of the Year for 2012 by the upscale Wyndham® Hotels and Resorts hotel chain.
The award was presented by Patrick Beron, vice president of field sales for Wyndham Hotels and Resorts, at Wyndham Hotel Group's recent Revenue Generation Summit in Puerto Rico.
Led by Jill Vance, the hotel's director of sales and marketing, the Wyndham Cleveland at PlayhouseSquare sales team, comprised of Joseph Jones, Christina Deroshia, Sandra Keneven, David Toler, Meghan Lukcso, Jennifer Wall, Jamie Jelleson and Lisa Baker, was awarded the honor from the brand as a result of the team's exemplary leadership, consistently outstanding sales results and abilities to go above and beyond to develop and maintain key client relationships that help drive business.
"Jill and her team are outstanding employees and a true asset to our hotel, playing an integral role in the hotel's increased performance this past year," said Brian Moloney, general manager of the Wyndham Cleveland at PlayhouseSquare. "Their willingness to consistently anticipate the needs of guests and drive continuous business through our doors is truly remarkable. We are proud to see our Sales team receive the recognition it deserves."
The 205-room Wyndham Cleveland at PlayhouseSquare is located at 1260 Euclid Avenue in Cleveland's vibrant theater district. The property offers an on-site restaurant and bar, 13,000 square feet of flexible meeting and event space, a 24-hour business center, an indoor pool and whirlpool, a sauna and a state-of-the-art fitness center. Guest rooms feature free wireless Internet access, spacious work areas and honed granite bathroom surfaces. Wyndham Cleveland at PlayhouseSquare's central location gives guests convenient access to top attractions, such as the Rock and Roll Hall of Fame, Horseshoe Casino, Cleveland Indians Progressive Field and Cleveland Cavaliers Quicken Loans Arena. Additional information and reservations are available by calling (216) 615-7500 or visiting http://www.wyndhamcleveland.com.
Wyndham Hotels and Resorts, LLC, a subsidiary of Wyndham Worldwide Corporation (NYSE: WYN), offers upscale hotel and resort accommodations throughout the United States, Europe, Canada, Mexico, Central and South America, China and the Caribbean. All Wyndham® hotels are either franchised by the company or managed by Wyndham Hotel Management, Inc., one of its affiliates or through a joint-venture partner. Additional information and reservations for all Wyndham hotels are available by calling (800) WYNDHAM – (800) 996-3426 – or visiting http://www.wyndham.com.