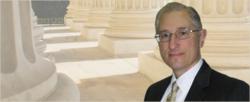 When we can help someone move on with their life, well, that always is an incredible experience.
Boston, MA (PRWEB) March 19, 2013
Boston personal injury attorney Steven R. Whitman of the Law Office of Steven R. Whitman has obtained a $402,500.00 combined settlement on behalf of a Massachusetts man with a severe knee injury.
In the case of Curtis Newsome v. Waheid Hana, et al. [Index Number: 26723-08, Docket Number: FSTCVV 106004374S], Curtis Newsome was an accomplished trucker, who in the past had served in the military and run his own trucking business. In 2008, he was operating his truck with a full trailer on Interstate 95 in Greenwich, Connecticut. According to court documents, up ahead of him, another truck operator lost control of his tractor-trailer truck, causing the vehicle to jack knife across all three lanes of the highway. A collision ensued between the two trucks. The plaintiff sustained injuries to his right knee. His injuries required arthroscopic knee surgery, physical therapy and extensive pain management.
From the date of the accident forward, the Law Office of Steven R. Whitman filed claims to ensure that the client received full worker's compensation benefits, including weekly benefits at the maximum compensation rate. The workers' compensation insurer contested the client's claimed injuries and his disability status. Mr. Whitman was successful in proving the client's case in each contested hearing. After the firm moved to have the Mr. Newman declared permanently totally disabled, the Law Office of Steven R. Whitman obtained settlement from the worker's compensation insurer for $225,000.00, as specified by court documents. Mr. Newman is currently back at work.
During the pendency of Mr. Newman's workers compensation case, the firm was able to assist the client in obtaining a settlement for $177,500.00 against the trucking company responsible for the accident, in the case of Curtis Newsome v. Waheid Hana, et al [Docket No. FSTCVV 106004374S]. This portion of the case required litigation in Connecticut State Courts and was hotly contested by the insurance companies involved, who claimed that the client was the negligent party who caused the injuries.
"It always feels great to get justice for our clients," said Boston accident attorney Steven R. Whitman. "Mr. Newman desperately needed compensation not only to pay for medical treatment, but to help him pay his everyday expenses. When we can help someone move on with their life, well, that always is an incredible experience."
About the Law Office of Steven R. Whitman
Since 1986, Whitman Law has provided legal help to thousands of injury clients and recovered millions in damages. They devote their entire practice to the representation of injured clients. Whitman Law brings an exceptional legal team to work on behalf of their clients. The Boston injury attorneys at Whitman Law focus their practice on:

Personal injury
Motorcycle accidents
Products liability
Workers' compensation
Car accidents
Construction accidents
Dog and animal bites
Burn injuries
Slip and fall
Each case receives personal attention from an injury attorney who works in collaboration with other professionals, such as qualified investigators, accident reconstruction engineers and other specialists relevant to the case. Personal injury law has the purpose of making people whole again by restoring them to the condition they were in prior to the injury, as much as possible.
For more information, contact the firm online or call 1-888-524-0092.