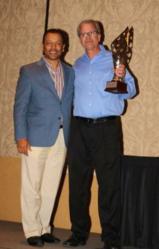 They continue to prove a focus on customer service and outstanding quality is a key to continued business growth and success.
Los Angeles, CA (PRWEB) March 25, 2013
Hüper Optik USA, a pioneer of the first Multilayered, true nano-ceramic window film, has awarded the National Synergy Award – Large Market to Solar Art Window Film of Laguna Hills, CA. Pictured are Bob Mason of Solar Art and Faisal Nazir, CEO of Huper Optik USA.
This prestigious National Award is given to Solar Art Window Film for their outstanding representation of Huper Optik films and their outstanding sales growth for 2012. Solar Art owner, Matt Darienzo purchased the business in 2009.
His focus began immediately to expand into the Energy Efficiency market place. Matt relies on his families vast experience with entrepreneurs and business development experience to direct the growth of his business investments. The shift in focus of his business paid off for Matt in 2012 when he won a very prestigious award from Inc. Magazine. Solar Art is ranked in the Top 5000 Energy companies in the magazine's annual award.
"Solar Art is an outstanding partner to Huper Optik and continues to show outstanding growth in a very competitive market," said Faisal Nazir. "They continue to prove a focus on customer service and outstanding quality is a key to continued business growth and success."
Huper Optik USA is a market leader in German engineered, multi-layers nano-ceramic and traditional solar control film technology, providing energy savings and security solutions for commercial, residential, automotive and marine industries through a strategic network of authorized dealers in the United States, Mexico, South America and Canada. The company, which celebrated its 10 year anniversary in 2010, is known for its innovations in ceramics, including its patented dual layer, nano-ceramics, neutral toned products, with low interior reflectivity. For more information or to become a dealer visit http://www.huperoptikusa.com or contact communications(at)huperoptikusa(dot)com