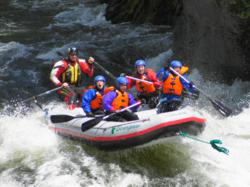 BOISE, Idaho (PRWEB) March 15, 2013
Idaho mountain snowpack levels and anticipated streamflows in the popular Salmon, Snake, Lochsa and Payette river basins are hovering near 90 percent of normal, which should provide for a fun-filled whitewater river season, officials said.
"The current levels in mid-March are looking excellent," said Justin Walsh, owner of Bear Paw Expeditions, which runs day trips on the Lochsa River in northern Idaho. Snowpack levels in the Clearwater Basin were 87 percent of normal as of mid-March, with more spring precipitation expected. "I'm really confident we'll have plenty of water for a great season," Walsh said.
Idaho is known nationally as the "whitewater state" with more than 3,000 miles of thrilling whitewater rapids, the most of any state in the lower 48. Now is the time when many families are planning their summer vacations; thousands will take week-long wilderness river vacations on the Salmon River, the Middle Fork of the Salmon River, the Selway River or Hells Canyon of the Snake with Idaho outfitters.
Whitewater enthusiasts also will book day trips with Idaho outfitters on the Payette, Snake, Salmon, Lochsa, St. Joe and Moyie rivers. Now is a great time to reserve your spot for a unique and unforgettable vacation, outfitters say.
Chuck Boyd of Salmon River Experience said he is glad to see snowpack levels hovering around 90 percent. "My best years are when it's a little bit below normal," Boyd said. "I like the snowpack right where it is." When snowpack levels are super high, the Salmon River can surge to dangerous flood-stage levels for several weeks at a time when it's unsafe to run raft trips or jet boat excursions, he said.
With slightly lower flows, the Salmon River tends to peak a little earlier in May, providing a longer floating season from June - September, the water warms up sooner for swimming, and good fishing kicks in earlier.
Ron Abramovich, water supply specialist for the Natural Resources Conservation Service, said early, high-elevation snows in November and December set up Idaho's mountains and rivers for a good season.
"We got a lot of snow above 7,000-foot elevation, it piled up several feet deep and that put us above normal," Abramovich said. "We know there's a lot of snow up there. That's kind of the kicker for this river season. It may be a real bonus when it comes off."
A few river basins in southwest Idaho are showing lower snowpack levels, such as the Boise at 68 percent of normal, and the Owyhee at 68 percent of normal. The Payette basin is at 77 percent of normal, but reservoir storage is 115 percent of average on the North Fork of the Payette, and the South Fork, elevating streamflow predictions to 88 percent of normal, Abramovich said. "The Payette Basin will be fine because of reservoir storage," he said.
River floaters will have to watch the Owyhee gauge closely to time trips correctly, Abramovich said. "You'll have to be quick to catch the Owyhee this year," he said.
The spectacular Bruneau River, however, is hovering at about 90 percent of normal snowpack. Seth Tonsmeire of Wilderness River Outfitters near Salmon, said his company is hoping to run at least one guided trip on the Jarbidge and Bruneau rivers when the weather warms up. "We're a little more optimistic about running the Bruneau this year, and we know the Salmon River is going to be great," he said.
For more information about booking an Idaho whitewater river trip, go to the Idaho Outfitters and Guides Association web site, http://ioga.org/rafting or call 208-342-1438.
Media contact: Steve Stuebner, sstuebner(at)cableone(dot)net, 208-484-0295