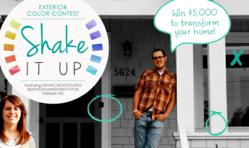 Kansas City, KS (PRWEB) March 18, 2013
DaVinci Roofscapes®, the color leader in the polymer roofing industry, launches a home exterior color contest on March 18, 2013. Open to all homeowners nationwide, the "Shake it Up" Exterior Color Contest includes a $5,000 cash grand prize to help the winner add color to the exterior of his or her home.
To enter the contest, homeowners should visit the DaVinci Facebook page at http://on.fb.me/10LLET8. After "Liking" the page, a person can enter by submitting a digital photo of their home's exterior along with up to a 250-word description stating how they wish to "shake up" the exterior of their home with colorful products.
National color expert Kate Smith will help judge the contest to determine five finalists. She will then work with a professional artist to create renderings and product wish lists of how the five finalists can transform their home's exteriors by adding color and colorful products by the contest sponsor and partners. The original photo submission and the artist's renderings for the five finalists will be posted on the contest site for two weeks of online public voting. The finalist with the most votes will receive the $5,000 grand prize.
"This fun contest will show people how easy it can be to add 'top down' color to a home's exterior," says Smith, president and chief color maven of Sensational Color. "We're going to help people turn ordinary home exteriors into extraordinary, color-coordinated showstoppers!"
The contest sponsor, DaVinci Roofscapes, offers polymer slate and shake roofing tiles in 49 standard colors with the option to custom create any color a homeowner desires. Each of the product partners for the contest, including Therma-Tru, Fypon and Simonton Windows, offers colorful product options for homeowners to enhance their home's exterior.
The "Shake it Up" Exterior Color Contest is open for online entries from March 18 – April 21, 2013. After the selection of the five finalists, public online voting will take place from May 13 – 26, 2013. The grand prize winner will be announced on June 3, 2013. For more information, along with the entry form, complete rules and regulations regarding the contest, visit http://on.fb.me/10LLET8.
DaVinci Roofscapes has manufactured award-winning polymer slate and shake roofing since 1999. The roofing tiles are virtually maintenance free and far more cost effective than the natural product. DaVinci leads the industry in tile thickness, the tile width variety and the greatest selection of subtle earth-toned colors. Company products have a 50-year limited warranty and are 100 percent recyclable. DaVinci proudly makes its products in America and is a member of the National Association of Home Builders, the Cool Roof Rating Council and the U.S. Green Building Council. For additional information call 1-800-328-4624 or visit http://www.davinciroofscapes.com.
###