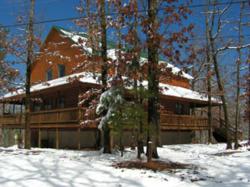 Broken Bow, Oklahoma (PRWEB) March 17, 2013
Families looking for affordable vacation ideas will enjoy taking a trip to Broken Bow, Oklahoma. Located in southeast Oklahoma, Broken Bow is the gateway to Beavers Bend and the Ouachita National Forest. Broken Bow Lake is a popular destination for visitors due to its serene beauty and tranquil atmosphere. Stunning forests, courtesy of the Kiamichi Mountains, provide visitors with postcard worthy views. Due to its picturesque appeal and mountainous terrain, nature enthusiasts flock to this area to catch a first-hand glimpse of a wide variety of wildlife, including deer, raccoon, squirrels, and bears.
For Oklahoma City or Little Rock families looking for a unique location, Broken Bow Cabins are an affordable choice. Offering luxurious cabins tucked in the Ouachita and Kiamichi Mountain wilderness, Broken Bow Cabins are located within a three-hour drive from Dallas. The close proximity to both Oklahoma and Texas makes Broken Bow Cabins a perfect setting for a quick getaway.
With a number of privately owned cabins available to rent, Broken Bow Cabins provides the perfect intimate holiday getaway for couples. Families and groups can also easily be accommodated in one of the larger cabins, some of which can accommodate groups of nine or more.
While visiting southeast Oklahoma area this year, visitors will enjoy incredible scenery, endless photo opportunities, and outdoor recreation opportunities galore. At Broken Bow Cabins, family-friendly features available in every cabin will add to the charm of any adventure. Enjoy time spent with friends and family around the fireplace watching a movie, or meet around the fire pit to take in the sights and sounds of nature. Upscale furnishings, full equipped kitchens, and first-class amenities provide guests with all of the comforts of home.
Southeast Oklahoma is home to breathtaking forests only steps away from luxury accommodations. Families of any size are guaranteed to enjoy lasting memories and an extraordinary getaway with a trip to Broken Bow, Oklahoma this year.