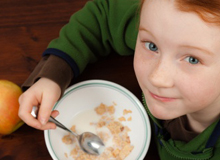 A child who comes to school hungry is a child who is not prepared to learn.
(PRWEB) March 18, 2013
Hunger-Free Minnesota and the General Mills Foundation today announced a $220,000 grant award to Children's Defense Fund – Minnesota. The grant is being given to support Hunger-Free Minnesota's School Breakfast Program, a statewide effort aimed at increasing participation in the United States Department of Agriculture-funded School Breakfast Program.
The grant award is made possible through a contribution from the General Mills Foundation. The goal is to provide 4 million additional meals through the Hunger-Free School Breakfast Program by the end of the 2014-2015 school year.
Five Minnesota Independent school districts (Minneapolis, St. Paul, Rochester, Austin and West St. Paul/Eagan/Mendota Heights) have stepped forward as "School Breakfast Program Champions" during the 2012-13 school year. Each school district will share best practices and ideas with other school districts around the state about what is working in their schools.
"A child who comes to school hungry is a child who is not prepared to learn," said Ellie Lucas, chief campaign officer for Hunger-Free Minnesota. "During the 2011-12 school year, more than 48 million breakfasts could have been served to Minnesota children qualifying for free and reduced-price meals. In reality, only 39 percent (a little over 19 million) of those breakfasts were served. We would like to help close that gap."
"General Mills is one of the original corporate partners of the Hunger-Free Minnesota coalition," said Mary Jane Melendez, associate director, General Mills Foundation. "Sadly, about 40 percent of Minnesotans who don't get enough to eat are kids. We are working to change that and are pleased to support Hunger-Free Minnesota's efforts to close this missing meal gap."
Grant award made to Children's Defense Fund – Minnesota
Because each school district in the state draws upon a unique strategy to implement the School Breakfast Program, Hunger-Free Minnesota has selected the Children's Defense Fund – Minnesota to meet with individual school districts and introduce best practices case studies that can serve as implementation plans beginning in 2013-2014 school year. A portion of the grant is being set aside for additional awards for school districts that may need further supplies in order to serve more breakfasts.
"Children's Defense Fund is a natural choice for School Breakfast Program outreach," said Amy Crawford, Children's Defense Fund – MN Regional Director. "As the state's only policy organization that focuses on the needs of children from infants to teenagers, our priority is to ensure that children get the best possible start in life. Research shows that when children have access to nutritional meals, they do better in school, have better health outcomes and greater opportunities for successful futures. We are excited to work with school districts and community partners to increase utilization of the School Breakfast Program and expand access to this vital support for more low-income children in our state."
About Hunger-Free Minnesota
Hunger-Free Minnesota is a time-limited campaign to close the 100 million missing-meal gap in Minnesota. Among its partners and supporters are community leaders and citizens, nonprofit agencies and organizations, food banks, food shelves, and corporations. Research partners include The Boston Consulting Group and EnSearch, Inc. Hunger-Free Minnesota's strategic action plan focuses on emergency food system capacity, the Supplemental Nutrition Assistance Program (SNAP), and child hunger and nutrition. The campaign encourages individuals and organizations to "Fight Hunger Where You Live." More information is available at http://www.hungerfreemn.org.
About the General Mills Foundation
The mission of the General Mills Foundation is to nourish communities. Continuing its tradition of generous giving and global community support, General Mills contributed more than $143 million to charitable causes in fiscal year 2012. General Mills invests in and collaborates with community organizations and programs that focus on alleviating hunger and advancing nutrition wellness. In addition, 83 percent of U.S. employees volunteer. To learn more about the ways General Mills nourishes lives through philanthropy and community engagement, please join us on Facebook at Facebook.com/GeneralMillsGives or visit us at GeneralMills.com/en/Responsibility/Community_Engagement
About Children's Defense Fund
Started in 1985, Children's Defense Fund – Minnesota is the only policy organization in the state to focus solely on the needs of Minnesota children, particularly those raised in low-income households. Children's Defense Fund – Minnesota supports children's health reform, Bridge to Benefits, school scholarship programs, after-school programs, youth development and leadership training, national CDF initiatives and other programs that ensure that children and their needs are a priority. http://www.cdf-mn.org