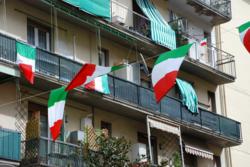 "I like to see a man proud of the place in which he lives. I like to see a man live so that his place will be proud of him." ~Abraham Lincoln
(PRWEB) March 17, 2013
AncestorEbooks encourages their customers to include their ancestral national holidays in their Ebooks, and include a bit of history to share. Such as Italy's declaration of the 17th of March as a national holiday in celebration of their 150 years since their unification, taking it from a nation-state and the home of the Roman empire, to become a nation on 17 March 1861. AncestorEbooks asserts that we all have intimate family stories that will be forever lost if we don't share them.
March 17th for many people is in commemoration of The Patron Saint of Ireland, St. Patrick, who was carried away from Scotland when he was 14 years old to become a slave in Ireland in 432 AD. At 20, he escaped to Britain, where he became a priest, then a Bishop, before returning to Ireland to share the Gospel. There he used the 3 leafed shamrock as an example of the Holy Trinity and preached for 40 years until his death on 17 March 461 AD.
Ireland, along with most of Christianity, celebrates the anniversary of his death to commemorate St. Patrick's accomplishments as a missionary in Ireland, which the Irish have celebrated for over 1000 years.
Often the true reason for a holiday is lost in parades, slogans and funny hats, says Cristina Besendorfer of AncestorEbooks.com, noting that the first Irish 'St. Patrick's Day' inspired parade was in New York City in 1762 and although the Shamrock is known the world over as the symbol of Ireland, it is the Celtic Harp that is the official emblem of Ireland.
Another time and place where March 17th is important in our world is the celebration of the abolition of slavery in Texas. According to the Texas State Historical Association's Journals of the Convention, March 17, 1836 was the day that Texas abolished the slave trade.
However, in W. E. B. Du Bois's book, The Suppression of the African Slave Trade... he states,"All persons of color who were slaves for life before coming to Texas shall remain so...but the importation or admission of Africans or Negroes in this republic, excepting for the United States of America, is prohibited, and declared to be piracy..."
AncestorEbooks.com states, "These three and many other incidents in our world's history are slowly being lost in our digital age where editing can be done with a quick copy and paste. More than ever before we must preserve our intimate family stories/history which people are doing within their own Family Tree Ebooks that are pass onto their children."