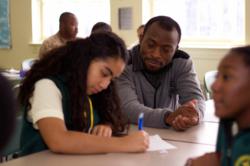 We are going to get the best out of every student, that is our goal.
Boston, MA (PRWEB) March 21, 2013
The mid-year assessments are in for Boston Cathedral High School's new extended day program and the students have shown an improvement of at least one grade level. Cathedral anticipates that approximately ninety-percent of all participating students will be at or above grade level in English and math by the end of the year. With such a great mid-year report, the students are easily on pace to achieve this goal and possibly something greater. "We are going to get the best out of every student, that is our goal," said Sr. Judy O'Brien, Principal of Cathedral's Junior High School.
Half the students entering as Cathedral freshmen arrive with limited English and math proficiencies. Some of these students are from homes where English is the second language, while others are simply underprepared from their previous educational experiences. To create a new way to address the academic needs of Cathedral students, the school began a partnership with Tutors for All (T4A) to launch a new math and literacy enrichment program for the school in the fall of 2012.
Tutors for All bridges the achievement gap one student at a time and is part of a new extended school-day program at Cathedral for seventh, eighth, and ninth grade students. "My summarizing skills have improved," said Jasmine, a seventh grader. "My math grades are up," added Jonathan, an eighth grader. For the past eight years, Cathedral High School has celebrated a hundred percent college acceptance rate. One reason for the success has been the school's commitment to a literacy program to address the individual needs of each student.
Tutors for All brings together colleges, schools, and community resources, giving underserved students the systematic individualized instruction they need in order to thrive. Since the program is based on the individual student, a merit scholar can receive just as many benefits from the program as a student who is struggling in school. The program is funded at Cathedral through the support of private philanthropy and meets in two ten-week cycles.
T4A's tutorial programs go well beyond standard definitions of "tutoring." Tutoring involves extra help on homework after school and is optional. Many families utilize tutoring for children who are struggling. In contrast, tutorial sessions focus on individualized, skills-based instruction. Each session is planned based on a student's particular needs. Students are required to attend the extended day sessions.
"You give them the ability to realize they were missing a couple of pieces and then they have mastered it," said Chris Baginski, Senior Program Manager for Tutors for All. Each student has personal goals and assessments. This is how Tutors for All can serve a diverse cohort of students, from the student that needs to improve on basic math skills to the freshman sufficiently advanced to take the PSAT.
One reason for the program's success is the use of one of Boston's greatest natural resources - college students. T4A has a proven record of tremendous growth in student math and literacy skills thanks to the energy, creativity, and idealism of the college students in the program. Tutors at the Cathedral program come from sixteen area colleges and universities, including Boston College, Harvard University, Emerson College, Emmanuel College, Simmons College, and UMass-Boston.
Tutors for All was inspired by best practices at the award-winning MATCH school and has successfully run in other Boston schools and charter programs. Cathedral is the first Catholic school to incorporate the tutorial sessions. Thus far, the experience at Cathedral has been transformative for the school, the students, and their tutors.