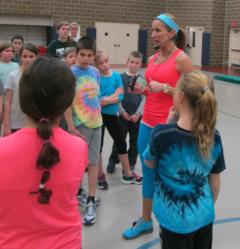 We believe it is important for us to be involved in this program because our mission is to improve the health and wellness of those we serve in our community.
Williamsport, PA (PRWEB) March 15, 2013
Striving to improve the health of children and adults in the communities it serves, Susquehanna Health (SH) has partnered with the Eastern Lycoming YMCA (ELYMCA) by sponsoring the organization's 3rd Annual Spring 5K Run/Walk. This event will be held at Hughesville High School on Saturday, April 13 from 8 to 11:30 am.
The sponsorship is supported by SH's Outpatient Rehabilitation Services, Occupational Health Services and Sports Medicine Center. "We believe it is important for us to be involved in this program because our mission is to improve the health and wellness of those we serve in our community," said Administrative Director of Musculoskeletal Services Susan Everett. Medical staff representing SH's outpatient clinics will be on site the day of the race to assist with medical care when needed. "We want you to stay healthy. If that isn't possible, we are here to help," Everett added.
ELYMCA Healthy Living Coordinator Buffy Basile is pleased to have SH as the lead sponsor for the race. "Susquehanna Health has always been a wonderful help and very supportive of this event since it began three years ago. Their sponsorship assists in defraying the costs of the event," she said. Proceeds from the race benefit the YMCA's Strong Kids Campaign and scholarship programs that enable children throughout our community to attend programs they otherwise might not be able to afford.
To prepare and encourage families to participate, Basile said ELYMCA offers a special 10-week training program, Small Strides, during which children ages 6 to 13 learn the fundamentals of running and various forms of cross training. New this year is a parent participation option enabling parents to train for the race during the same time. The program also teaches teamwork and builds self-esteem. "We have a great team of personal trainers and running mentors, so no one runs alone," Basile added. The training program runs from February 4 through April 13, culminating with the 5K Run/Walk. "We've had 50 children participate in the program so far, and all of them have finished the race," said Basile.
Registration for the 5K race is available online at elymca.org and parunners.com. Brochures with detailed information are available at the ELYMCA and at all five SH Outpatient Rehabilitation locations and Sports Medicine Center. The cost of participation is $15 before April 1 or $20 after April 1. Race day registration begins at 8 am. The race starts at 10 am and is followed by an awards ceremony. For more information, contact Buffy Basile at 570-546-8822.
About Susquehanna Health
Susquehanna Health is a four-hospital integrated health system including Divine Providence Hospital, Muncy Valley Hospital, Soldiers & Sailors Memorial Hospital and Williamsport Regional Medical Center located in northcentral Pennsylvania. Serving patients from an 11-county region, Susquehanna Health is a healthcare leader and has been recognized at the national and state levels for quality of care. Susquehanna Health offers a wide array of services that include cancer care, heart and vascular care/heart surgery, neurosciences including neurosurgery, orthopedics, urology, OB/GYN, gastrointestinal services, behavioral health, physical rehabilitation, home care, long term care, assisted living and paramedic/ambulance services.