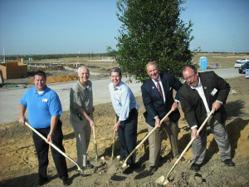 "Homes for HOPE allows us to have an impact beyond our own community to help eliminate poverty in areas of need throughout the world," says Mr. Brooks.
Little Elm, TX (PRWEB) March 19, 2013
Grand Homes and the Home Builders Association of Greater Dallas invite members of the community to attend a dedication celebration of their fourth Home for HOPE. The dedication ceremony will take place on Thursday, April 4th from Noon until 1 p.m. at 14117 Sparrow Hill, Little Elm, TX 75068.
The charity home has been built by Grand Homes as part of their new Frisco Hills community, at the edge of Little Elm and Frisco, just south of 380, at FM423 and Gibbs Road. Grand Homes' trade partners – subcontractors, suppliers, and consultants – have donated or discounted their labor, materials, and services to help secure a large donation upon the sale of the home. The donation from the sale of the home, priced in the $290,000s, will benefit HOPE International, a microfinance network dedicated to alleviating world poverty by providing financial services for impoverished families. The house can be purchased by contacting the sales manager at the Frisco Hills location at 469.400.0200 or visiting http ://bit.ly/ZFSCXg
The impact of HOPE International and Homes for HOPE can be seen online at http://bit.ly/100p1G
HOPE's primary service is the provision of microloans in 16 of the world's most desperate countries. Starting at only $50, these loans enable entrepreneurs to start or expand their small businesses, creating a steady income that will lift their families out of poverty. Across the country, Homes for HOPE has reached out to over 100 builders. Grand Homes has answered the call a fourth time to participate in the initiative that allows builders to have a worldwide impact simply by doing what they do best: build homes.
Grand Homes will be contributing all proceeds from the sale including donations from their trade partners in the final sum given to Homes for HOPE. Stephen Brooks, CEO and owner of Grand Homes, believes in the idea of giving back.
For more information on the dedication or Homes for HOPE, please contact Mary Jo Fogle with Grand Homes at (972) 387-6091 or mjfogle(at)grandhomes(dot)com.
About HOPE International: HOPE International empowers those living in need around the world to escape poverty by providing microloans, savings services, training, and mentoring to help people become self-sufficient. Working in 12 of the poorest, least-served countries in Africa, Asia, Eastern Europe, and the Caribbean, HOPE is a Christian faith-based 501(c)(3) non-profit organization focused on alleviating the many dimensions of poverty – physical, social, and spiritual – through microenterprise development.
About Homes for HOPE (H4H): H4H is a 501(c)(3) non-profit organization whose mission is to generate funding within the building industry to support the work of HOPE International and like-minded organizations who are helping to eradicate poverty in some of the poorest countries in the world.
About The Consumers' Choice Award:
Established in 1987, the Consumers' Choice Award® identifies and promotes businesses that deliver customer service excellence. The Consumers' Choice Award® has retained a leading independent research firm to conduct surveys in U.S. cities; Columbus, Atlanta, Dallas, and Houston. The winners are determined by consumers and not by a panel of judges. The survey covers a broad range of categories of interest to both the public and business communities. Its purpose is to publicly identify those establishments that have been voted by consumers as being their choice for excellence. The Consumers' Choice Award® is a most prestigious tribute to local businesses that serve their communities well. The program is encouraged by all levels of government and by business leaders. Find out more about The Consumers' Choice Award by visiting http://www.consumerschoiceaward.com/