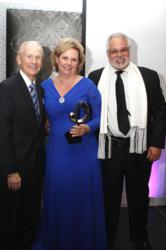 "Ruthita Fike was an obvious choice to receive the Ludlam-Gamble award, named for NHF's founders", says J. Eugene Grigsby, III, President and CEO. "She has committed her life to improving the community's health and leads by example in patient care and sa
Loma Linda, Calif. (PRWEB) March 15, 2013
The National Health Foundation (NHF), in association with the Hospital Association of Southern California (HASC), honored Loma Linda University Medical Center's (LLUMC) CEO Ruthita J. Fike with the Ludlam-Gamble award on Tuesday, March 12 at a Tribute Dinner, "A Celebration of Leadership, Vision and Commitment."
"I am truly honored to have been invited to be a part of National Health Foundation and the good work your organization does for so many," shared Ms. Fike in her acceptance speech amongst hundreds of her colleagues, partners, board members, professionals and family members who comprised the sold-out crowd.
"We, who are in the field of health care, are fortunate to help members of our community to lead healthy lives. And when they are not, we are in a position to help them in their time of need," said Ms. Fike, who is the first woman to receive the award.
National Health Foundation hosts this annual Tribute Dinner to raise funds in support of its mission to improve and enhance the health of the underserved by developing and supporting innovative programs. The event was the most successful fundraiser for the NHF in its eight years of hosting the Tribute Dinner.
NHF focuses its efforts on chronic disease prevention and management, helping underserved children and families and within health care delivery systems. Funds raised through this Tribute Dinner were generated through sponsorships of the honoree by healthcare institutions, vendors and supporters.
"Ruthita Fike was an obvious choice to receive the Ludlam-Gamble award, named for NHF's founders", stated J. Eugene Grigsby, III, President and CEO. "She has committed her life to improving the community's health and leads by example in patient care and safety, some of the most critical components of health care."
"When Ruthita Fike speaks, everyone listens," said C. Duane Dauner, California Hospital Association CEO, on bringing the honoree to the stage.
As CEO and administrator of the 1,076-bed Loma Linda University Medical Center, Ms. Fike oversees the day-to-day operations of the institution that includes the Medical Center, Loma Linda University Children's Hospital, Loma Linda University Behavioral Medicine Center, Loma Linda University Medical Center East Campus, Loma Linda University Heart and Surgical Hospital, Loma Linda University Medical Center – Murrieta, and the various signature programs.
As Loma Linda University Health Executive Vice President for Hospital Affairs, Ms. Fike's portfolio includes responsibility for international activities in the People's Republic of China. She also serves as the liaison administrator for Sir Run Run Shaw Hospital in Hangzhou, China.
In March 2012, Ms. Fike was recognized by Becker's Hospital Review on its list of "100 Non-Profit Hospital, Health System CEOs to Know," which features some of the top leaders in the non-profit health care sector. To be included on the list, the presidents and CEOs must display strong leadership skills through the performance their facilities, their involvement in organizations, such as the American Hospital Association, their commitment to the community.
Photo Caption: Loma Linda University Medical Center CEO Ruthita J. Fike (center) was honored by the National Health Foundation with the Ludlam-Gamble award, named for NHF founders, at a Tribute Dinner, "A Celebration of Leadership, Vision and Commitment," on Tuesday, March 12. With her in the picture are: C. Duane Dauner (left), CEO, California Hospital Association and J. Eugene Grigsby, III, President and CEO, NHF.
###
About Loma Linda University Health (LLUH)
Loma Linda University Health includes Loma Linda University's eight professional schools, Loma Linda University Medical Center's six hospitals and more than 900 faculty physicians located in the Inland Empire of Southern California. Established in 1905, LLUH is a global leader in education, research and clinical care. It offers over 100 academic programs and provides quality health care to 40,000 inpatients and 1.5 million outpatients each year. A Seventh-day Adventist organization, LLUH is a faith-based health system with a mission "to continue the teaching and healing ministry of Jesus Christ."