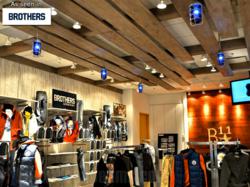 Customer service is always the key to success
Deer Park, NY (PRWEB) March 19, 2013
Beams from FauxWoodBeams.com, a subsidiary of Barron Designs, have been chosen by idX Corporation for its ongoing project building Brothers retail stores. Brothers is a line of apparel stores owned by Tween Brands and geared to boys ages 7-14.
"We love commercial design projects and working with idX has been a dream," said Steve Barron, president of Barron Designs.
idX actually found Barron Designs and FauxWoodBeams.com through a routine internet search. Tween Brands wanted the look of real wood beams without issues that genuine wood can pose.
"The client was looking for a lightweight alternative to real wood and your company was a great fit," said Chad Wallen, Senior Project Manager for idX. "We have been very impressed with [Barron's] customer service and attention to detail. You have helped us with everything from alternate beam designs to setting up freight for product delivery."
Customer service is one of the keys to success for all of the Barron Designs' companies. None of their customer representatives receives a commission so their only motivation is helping the client choose the right product and providing any design or installation needed.
Barron's faux wood beams are made of molds of genuine wood so they have all of the same texture, knots and grooves as the real thing without the drawbacks. Termites have no interest in faux wood beams. Whereas real beams often require special reinforcement and more crew to install, Barron's faux wood beams are extremely durable and easy to install. It's even simple to run wiring for lighting, speakers, etc. through them.
Made of polyurethane, Barron's beams will never warp or rot. When used outdoors, that means they won't have to be replaced in a few years like genuine wood has to be. Indoors they last indefinitely. Like real wood, unstained fake wood beams can be stained or painted to match any design. They also come in a variety of colors like walnut, cinnamon, java and more.
"We love making customers happy," said Barron. "Based on the project results so far with idX, we expect this to be a mutually successful relationship for a long time."
Barron Designs Inc. is a family-owned home improvement business operating since 1972. Its subsidiaries include the industry leading FauxPanels.com, which has a huge selection of easy-to-install, low maintenance, realistic faux brick, stone and wood panels, and outstanding customer service. FauxWoodBeams.com leads the field of polyurethane wood beam products, ceiling panels and architectural products. FauxColumns.com features easy-to-install faux stone and brick columns that meet national crash standards. Products from various Barron Designs companies have been featured on television shows such as "Man Caves," "I Hate My Kitchen," "Celebrity Apprentice," numerous appearances on "Extreme Makeover: Home Edition," and many more. For more information, visit BarronDesigns.com.