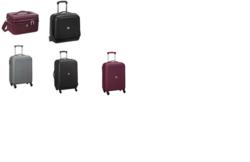 The Delsey Chaumont is a range of hard sided cases that are now offered by Luggage Superstore
Kent (PRWEB UK) 18 March 2013
The Delsey Chaumont is a range of hard sided cases that are now offered by Luggage Superstore. This range offers three colours of Black, Purple and Grey in the cabin size and the 69cm spinners. The 69cm case is equipped with Delsey' s special Securi-Tech anti theft zip, making it practically impossible for the zip to be pried open with a pen and the both suitcases have an approved TSA combination lock.
The Boardcase is ideal for short trips by air or by land,mostly suitable for the frequent flyer or business person. The designated laptop section is equipped with protection to keep the item secure during travel while the main compartment can hold miscellaneous items of clothing etc for travel.
One of the many things that is needed for women particularly is the hard side beauty case this range brings with it. The first advantage is that it is hard sided, bringing naturally a protected frame. The next bonus is that toiletries would stand upright in the case, making it ready to use when needed but of course the biggest benefit is the detachable shoulder strap that comes with it making it so convenient to carry while pulling along other suitcases or bags.
Luggage Superstore agrees when Delsey states that this is a "... contemporary line with optimised ergonomics for travellers seeking utter comfort."
Delsey continues to move forward with innovation to meets the needs of the current traveller.
Luggagesuperstore established site is in West Kingsdown, Kent. Their aim is providing competitive prices of the highest quality luggage and top calibre Customer Service for online luggage shopping. Luggage Superstore recommends Carlton Luggage.
Trina Chee-a-kwai
Luggage Superstore
01474 854666
Email information