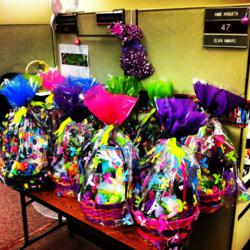 Beautiful Easter baskets for the Community Partners of Dallas
Garland, Texas (PRWEB) March 16, 2013
Employees of LifeBox 24*7 made and delivered 10 beautiful Easter baskets to Community Partners of Dallas this week.
Community Partners of Dallas was established in 1989 by a committed group of Dallas County individuals to ensure that the community could support Child Protective Services. Over time, the mission of Community Partners was refined and became: The mission of Community Partners of Dallas is to ensure safety, restore dignity, and inspire hope for the abused and neglected children served by Dallas County Child Protective Services.
"LifeBox 24*7 employees have a heart for helping others," said Holly Arbuckle. "These dedicated monitors answer emergency calls all day, and some all night long, and then find time to prepare these baskets for those less fortunate."
Rainbow Rooms and Adopt-A-Caseworker programs are currently underway in more than 135 cities in Texas.
"LifeBox 24*7 is thrilled to have been asked to partner with this outstanding organization in helping kids." added Arbuckle.
LifeBox 24*7 and it's parent company, Outreach Health Services, Inc has a heart for serving in many different areas of need. Providing peace of mind through their personal emergency response services or providing Easter goodies to kids, LifeBox 24*7 employees are ready to serve.
LifeBox 24*7 is a provider of personal emergency response services throughout Texas and can be reached on the web at http://www.lifebox247.com or toll-free at 866-365-4130. You can't get a prescription for Peace of Mind, LifeBox 24*7 is the next best thing.